Reuthers Royal Enfield
Motorcycle Expedition
Tibet / Asia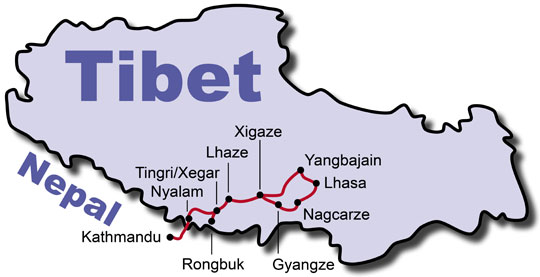 Tuesday, Day 1
Kathmandu

Individual trip to Kathmandu in Nepal. A Reuthers representative will welcome you at the airport and our transfer service will take you to your hotel. In the evening all motorcycle tour participants and the tour guide get together for a welcome drink, dinner and briefing in order to get to know each other.

Wednesday, Day 2
Kathmandu

After breakfast, we can pick up our Royal Enfield motorcycles for a sightseeing tour and ride around the city of Kathmandu.

Thursday, Day 3
Kathmandu - Zangmu / Nyalam

Today our Tibet motorcycle tour adventure begins by riding from Kathmandu towards the Nepal-Tibet border. After crossing the Friendship Bridge, we will meet our Tibet tour guide for lunch. If the time allows, we will continue towards Nyalam or stay overnight in Zangmu.

Friday, Day 4
Zangmu / Nyalam > Tingri

After breakfast we'll take an easy ride visiting Milarepa's Cave enroute. Spending the night in Tingri provides us with great views of the Himalayas in the south including Mount Everest.

Saturday, Day 5
Tingri - Lhaze

We pass through a 5220 meters high pass called Gyatso La and continue down to the Fertile Valley of Lhaze for tonights stay at a local guest house.

Sunday, Day 6
Lhaze - Xigaze

Our trip takes us across the Yulung La Pass (4950 meters) through villages on to Xigaze, the second largest city of Tibet. In Xigaze, we will visit the Tashilhumpo Monastery, a vast monastery with its own streets, housing sectors, plazas, back alleys and a complex of temples and halls.

Monday, Day 7
Xigaze - Gyangze

Our ride continues to Gyangze passing agricultural, cultivated fields. The gravel roads are lined up with poplar trees, a distinct Tibetan feature. The ride to Gyangze is just 90 km, but we will also visit the small, picturesque village of Kardoi for a round trip to an old castle, the Kumbum and Palcho Chode Monastery.

Tuesday, Day 8
Gyangze - Nagcarze

Nagcarze is a small town, overlooking the stunning Yamdrok Tso Lake. The snow covered mountain of Nojin Kangtsang can be viewed across the lake with itstowering 7000 meters (23 thousand feet).

Wednesday, Day 9
Nagcarze - Lhasa

Today we will be crossing the high pass of Karo La at 5050 meters and continue our ride to Lhasa, the capital of Tibet. Besides the traditional and historical parts, you will find that Lhasa is now also a modern Chinese city.

Thursday, Day 10
Lhasa

Day 10 is a relaxing day and free for everybody. Enjoy Lhasa or relax - whatever you like.

Friday, Day 11
Lhasa

This morning we will visit the Potala, the former palace of the Dalai Lama - spiritual and political head of Tibet. The Potala symbolizes the Tibetan Buddhism and its central role in the traditional administration. The first sight of the Potala will be an awesome moment in your life and you will never forget it. It takes hours to see the rooms, halls and chapels. In the afternoon, we will visit the Jokhang Temple, the spiritual center of Tibet and nearby Barkhor Street that is a symbol of Lhasa, it is a very ancient round street going around the Jokhang Temple.

Saturday, Day 12
Lhasa

Today we will visit two Gelugpa Monasteries. Drepung is the largest of all Tibetan monasteries and is located on the Gambo Utse Mountain. Once Drepung was the world's largest monastery with about 10,000 monks. The other monastery we will visit is Sera with its famous Buddhism Scriptures Debating.

Sunday, Day 13
Lhasa - Yangbajain

In the morning we will start a relaxing ride to Yangbajain overlooking the Nyainqentanglha Mountains. The Yangbajain Hot Springs are China's largest geothermal fields and you are welcome to visit a spa in the afternoon.

Monday, Day 14
Yangbajain - Xigaze

After having breakfast we'll follow the Kyi Chu River to the Brahmaputra Valley and then following the Yarlung Tsangpo River to Xigaze. What a day!

Tuesday, Day 15
Xigaze - Xegar

Our ride takes us on the Friendship Highway from Xigaze to Lhaze and along Gyatso La Pass (5220 meters) into Xegar. Overnight stay will be in a Mt Everest view hotel where you can enjoy the stunning views.

Wednesday, Day 16
Xegar - Rongbuk

Today a spectacular highlight on this motorcycle tour awaits us - the "Top of the World" - an excursion on the traditional route to the Everest Base Camp in 5200 meters height. Close to the camp, we have booked an accommodation for the night in Rongbuk near the historical Rongbuk Monastery.

Thursday, Day 17
Rongbuk - Kathmandu

The last day of our Tibet Motorcycle Tour. Riding downhill from Nyalam, the altitude dramatically decreases by 1300 meters in approximately 1.5 hours. We leave Tibet and after border clearance, we continue our ride back to Kathmandu in Nepal, where we drop off our Royal Enfield motorcycles. In the evening we will get together for our traditional Farewell Dinner, enjoy a cultural program and reminisce about our Tibet motorcycle tour expedition.