Reuthers News
Like every year, this is our favourite story for the most wonderful time of the year. The story has been shared by a very good friend of us, by Dolores Miller from Illinois, USA. Thank You, Dolores.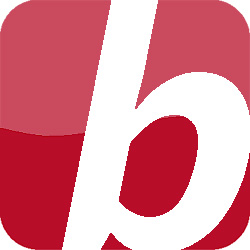 The current articles:
Categories: Company, Entertainment, Europe, Harley-Davidson, Lifestyle, New Zealand, Road Shows, South Africa, Sweepstakes, Travel, USA...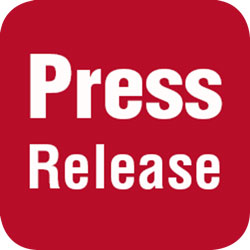 The current press release from REUTHER-ENTERTAINMENTS - Reuthers World Of Enjoyment:
Coburg, 6 December 2018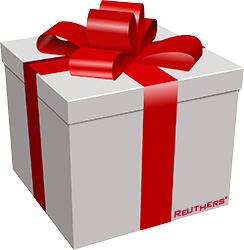 Great Special Offers and Discounts - only on Reuthers Boxing Day,
Wednesday, 26 December 2018, 00:00-24:00
CET Central European Time, Berlin.
See You Here > Reuthers Boxing Day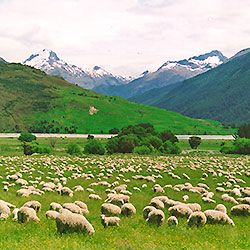 Kiwis - for some they are a savory fruit for the other the name of a bird species. What has this got to do with New Zealand? Oh yes, Kiwi is also a pet name for the New Zealander. And if the inhabitants carry a nickname, then the country can also have a second name that goes back to its discoverer. The Maori call New Zealand Aotearoa and explain the use of this word with the long white cloud - that is what the translation means in Maori.
Since 2001 the own Reuthers branch is operating in Auckland, the City Of Sails and providing New Zealand travel needs like Airport Transfers, Photo Tours, Motorcycle Tours, Mini Bus Tours (including short trips) and Rental Car Tours...
Enjoy the > Video New Zealand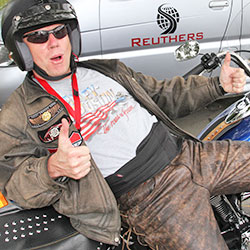 Reuthers POMZEC (Peace Of Mind Zero Excess Coverage) Program
The Reuthers service offensive continues. In the search for new possibilities to provide the very Best service for our valued clients, the Reuthers POMZEC program will be included in all future bookings of Reuthers dream tours. This means, that in the event of an accident while driving the rental vehicle or theft of the rented vehicle by criminal acts of third parties, POMZEC ("Peace of Mind Zero Excess Coverage") takes care of the obligatory deductible in the comprehensive insurance for rented vehicles (motorcycle, rental car)and reduces it to Zero !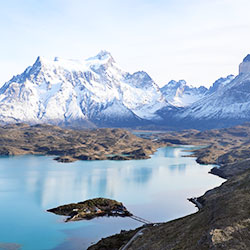 Hermann Reuther, Founder and President of REUTHER-ENTERTAINMENTS... and enthusiastic motorcyclist has personally checked the roads, highlights, hotels etc. for our coming Patagonia dream tours. The date for the Patagonia Motorcycle Tour as well as the Photo Tour and Bus Tour - both versions in a comfortable mini bus - is now scheduled: 11 February - 3 March 2020.
For all registrations till Friday, 21 December 2018 there is a 10% Special Discount. Please use Discount Code "Patagonia 2020". Registration deadline: 28 December 2018. Book Now!

After the Great success of our Special Event Tour "Berlin-Moscow 2017", we follow many wishes and scheduled the next adventure - on a Harley-Davidson, BMW, Triumph or your own motorycle, as a photo tour and/or in a comfortable mini bus from Berlin to Moscow and back.
Next date: 7 - 26 June 2020.
For more information please select > Motorcycle Tour > Photo Tour > Bus Tour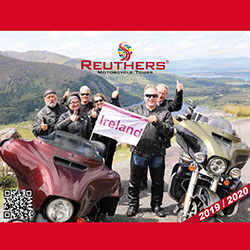 Now available - the brandnew eCatalog! Dream Tours, Routes, Videolinks and lots of Information - get Your update now for Tablet, Smartphone and PC > eCatalog
And here's the video of our happy tour participants: "LET'S RUMBLE! with Reuthers"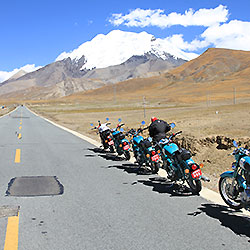 Almost all Reuthers dream tours are now available for the small budget at KeaRider. Basic overnight stays, mainly in hostels, as well as less included services reduce the tour price - and so especially the younger generation feels at home with KeaRider. The KeaRider Classic Bike by Royal Enfield - of course in Retro Style - also fits the motto "Back To Basics"...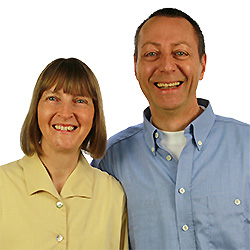 To prevent all that of what is dangerous or known to be harmful is the one side. Passing on tips to live more consciously, however, is what matters to Hermann Reuther and his wife Adelheid. "It's about placing more natural things into the foreground and to give useful tips, that are easy to use", explains Hermann Reuther. The way of living a more conscious life requires much assertiveness, discipline and self-confidence, knows the company president and family man.
Following and posting on the Reuthers Blog, Facebook and Google+, receiving short messages by Twitter pin photos on Instagram and Pinterest as well as watching the latest Videos on YouTube. Being part of the Reuthers Community. Always being informed first about current news. Benefiting from special offers and services.
Welcome to Reuthers World Of Enjoyment.
Latest Tweets by Reuthers
Newsletter > Imprint | Unsubscribe < Newsletter