Road Show

For years we have been presenting our current Events and/or Travel program as part of global Road Shows with pictures, videos and great stories from the more than 30 years of REUTHER-ENTERTAINMENTS. The focus in the event area is on "entertainment with a concept", a travel activity eg Motorcycle Tours or Photo Tours in connection with a special travel area - and with an attractive Photo Exhibition on request.
Recently we have also organized Live Premieres and Autograph Tours mainly for our music label Reuthers Records and the exclusive artists of Reuthers Artist Management.
You would like us to organize a Road Show for you or to come to you with a Road Show > Contact
Together with the local partners, we would like to invite you to our special events. Please simply register on this page.

Dates
There is a personal present waiting for all registered participants/visitors (while stocks last).
Yours
Reuthers Team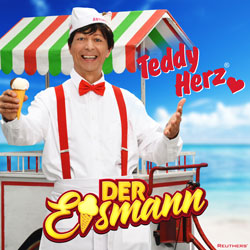 The Ice Cream Man is coming!
As part of the release of his single "Der Eismann" (The Ice Cream Man), singer and entertainer Teddy Herz was visiting selected ice cream cafes and bars in Germany, Austria and Switzerland in July / August 2020 as "Der Eismann", in order to convince himself of the local ice cream specialities...