Music Label

Since 1987 REUTHER-ENTERTAINMENTS is successfully working in the national and international Showbusiness.
With the Music Label Reuthers Records we are now also taking care of publishing and distributing national and international music from all genres.
Combined with Reuthers Music Publishing, Reuthers Music Production as well as Reuthers Artist Management, we are providing a full service from one source for Young Talents and Big Stars.
You are a composer and/or writer and would like to have your works published and distributed?
Just Contact us and we talk about the possibilities.
Current Release: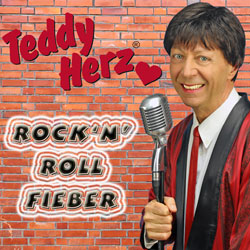 Teddy Herz / Rock'n'Roll Fieber
With "Rock'n'Roll Fieber" Teddy Herz continues the tradition of the 50s and 60s - musically in the contemporary sound - as well as an artist. Clear that his heart belongs to the Hazy Osterwald Sextet, Caterina Valente and Drafi Deutscher...
Genre: Deutscher Schlager / Pop National
Release: 13 September 2019
Preorder: 2 September 2019
Media Sampling: 2 September 2019
ISRC: DEYF31900001
GTIN / EAN: 4050215615144