Motorcycle Tours FAQs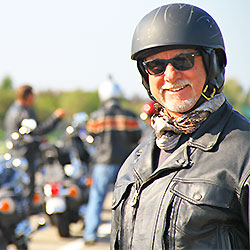 Dear Enquirer!
Our aim is to provide answers regarding your motorcycle tour. How can we help answer any questions? Please see our FAQ selection that might answer most of your questions right away. If You have a specific question please call us, send us an eMail or Chat with us Live and we help You immediately.
Company, Tours, Destinations
What is special about Reuthers Motorcycle Tours?
Well, REUTHER-ENTERTAINMENTS is a totally service-oriented company that has been operating since 1987 - and running exclusive motorcycle tours since 1997. Since we first started we have specialised in arranging events for the discerning client. Our slogan is: "We are giving you more than just a tour - we are fulfilling your dreams."
In which countries can we find your tours and when are they held?
As we are now offering tours throughout the world – in New Zealand, Australia, the USA, South Africa, Canada and Europe, you can tour with us at any time. Look up our > Tours Calender and find your dream destination.
One of your special destinations is New Zealand. Is this for any particular reason?
Of course. Anyone who wants to escape from the cold season in the northern hemisphere can come to New Zealand, the motorcyclist's paradise, where it is summer in the northern hemisphere's winter. Touring is fantastic in this country, which is 75% the size of Germany and has a population of about 4 million. Breathtaking scenery, with mountains and the sea and empty roads with no traffic jams. Everything is very European and our reliable team is on the spot – what more could one ask for?
What is a Guided Tour?
This is a guided adventure tour with a Reuthers Tour Guide. In addition, nearly everything is included in the tour. This includes the rental motorcycle and overnight stops, plus the cost of petrol (usually we fill all the motorcycles together and thus save precious time). The tour includes entry costs and park fees plus many other amenities. We do not have any hidden costs.
As a rule how many people take part in a Guided Tour?
The average of participants per group is usually 6-12 motorcyclists plus motorcycle passengers (please ask about special events).
On a Guided Tour do we always stay together in a group or can I also go on my own?
For safety and insurance reasons the group is always riding together on a Guided Tour. This also ensures the best experience for all tour participants. For individual riding fun we recommend our Semi Guided or Self Drive Tour versions.
We are a group of friends and would like to travel together and go on a Guided Tour by our own. Is this possible?
Of course. We can organize an individual tour with 8 or more participants on your own date - or you make a Private Tour from 1 person...
Who are your Tour Guides? What makes them different?
Our Tour Guides are all passionate motorcyclists and have gone through a special training.
What is a Semi Guided Tour?
These tours follow the Guided Tour descriptions and dates. They include motorcycle rental and hotel bookings and where possible additional bookings also. A Tour Book containing your daily schedule and recommended activities is giving you additional support for your individual adventure. For your convenience your luggage is taken to the daily hotel. This tour version offers a maximum of individual riding fun and comfort.
What is a Self Drive Tour?
These tours follow the Guided Tour descriptions on your individual date. They include motorcycle rental and hotel bookings and where necessary additional bookings also. You will be provided with a tour book containing maps, your daily schedule and recommended activities. Optional you can book the Navi Guided Tour ® version including a GPS navigation device.
I am interested in a Semi Guided or Self Drive Tour. What should I do in an emergency?
If you need help, you can contact our worldwide 24 hour / 7 day Emergency-Hotline. Our Reuthers Team will help you immediately.
What means Reuthers BYOM © ?
BYOM © means "Bring Your Own Motorcycle". Join a Reuthers Motorcycle Tour on the motorcycle you love so much - your own one!
What sort of hotel categories do you offer?
Usually we stay overnight in either mid-range or top-class hotels. In some countries we look for hotels that are historic and typical for that country and add an extra charm.
In your credo you mentioned your social programme. What are you doing?
In 1998 REUTHER-ENTERTAINMENTS founded its own aid programme for children. Adelheid Reuther personally takes care of the Reuthers Children Charity and the correct use of your donations. The money goes entirely 1:1 to selected projects without any administration fees.
Clients, Participants
I have been thinking of going on a motorcycle tour for a long time but my partner isn't interested in going on a motorbike as a passenger and I don't want to leave her alone for so long. Can Reuthers help me?
Certainly. For this reason we developed the Reuthers Partner Vacation Program ©, which makes it possible for partners to experience the adventure in the comfort of the accompanying Escort Vehicle. This is a popular program and makes it possible for you to have a joint holiday. The response to this programme is excellent.
I would really like to give my husband a Guided Route 66 Tour for his 60th birthday. He used to be an enthusiastic motorcyclist but has not ridden for a long time. Can I give him such a trip as a present? What demands will it make on him?
That is a really nice present that he will remember for a long time. In fact, we have a lot of participants aged between 50 and 70 years, therefore we are very used to motorcyclists of this age. In case you are 60 or more of age while on a Guided Tour, you can even apply for a 2% Golden Ager Discount. If you have ever ridden a motorcycle then you will soon remember how to ride again. And another thing - we are cruising instead of racing through the landscape. Will you join us too?
Is it possible to participate in your tours as a single traveller?
Of course. As a single traveller you will have the opportunity to get to know like-minded people and enjoy the great motorcycle adventure within a big family.
What do your clients say?
I still have some questions. Do I have to talk to an impersonal Call Center?
No. Our team is competent and motorcycle enthusiastic and will answer your questions at any time by telephone, by our popular Internet Live Chat or by Skype Video Call. If you like, your personal contact person can give you a call at a time convenient to you.
Is my flight included in the tour price?
The needs of our participants throughout the world vary greatly, and therefore we prefer to deal with them individually. You may want economy, business or first class; a particular seat; a preferred airline for collecting or cashing in flight points; or a connecting flight before or after the tour. If the flight is booked separately then all these different points can be catered for. If requested, we are happy to use our expertise to help with your individual flight bookings.
Do you offer special rates if I book a tour together with my friends?
Yes, groups from 8 participants get a 10% Group Discount, as long as all registrations take place within one week and a common Payment of Balance is made by Bank Transfer.
In which currency do I have to pay the tour price?
For your benefit, the tour price is calculated and noted in the currency of the country you are touring. This is the easiest and cheapest way for making the payment and avoids additional efforts and costs. Of course you are also welcome to pay in your preferred currency (different currency - different pricing).
How do I pay for my tour?
Basically we offer several options for payment. Paying the deposit by Credit Card and the Payment of Balance by Bank Transfer is the most favourable option for you as you may apply for up to 10% discounts.
What is a Reuthers Secured Payment Certificate Sicherungsschein)?
Your tourprice payment is secured under strict German law for tour operators. All bookings for Reuthers Tours include the so called "Sicherungsschein" from R+V Versicherung, Germany. This certificate for our clients all over the world is a legal document that secures your tourprice payment in case of a tour operator insolvency.
How many months in advance must I book?
Early registrations make preparations easier for all involved. If you book more than 12 months prior tour start you will get the popular 3% Early Bird Discount from Reuthers. Before making a definite booking you are welcome to do an individually non-binding reservation in order to secure your space on the tour.
How much is the deposit and what about payment of balance?
When making a booking, a 20% deposit of the normal total amount is due. After receiving this payment, a booking confirmation showing any discounts will be sent to you. The payment of balance is due 90 days prior tourstart for travel and 60 days prior pick up for rentals.
I have decided to go on your tour. How do I register?
That's quite simple. You have a choice of two possibilities: 1. Online booking by Internet or 2. Booking by telefax using our registration form. Further information can be found on our webpage > Booking
Practical Information
What would I have to bring with me on the tour?
Our comprehensive Tour Book, which each participant receives four weeks before the start of the tour, contains useful tips in the form of a tried and tested checklist, along with route maps and descriptions. Before we start, we also hold either a personal orientation meeting or a comprehensive briefing by telephone. We always give you the optimum preparation for a tour.
Do I have to bring my own motorcycle gear and my helmet?
We generally recommend that you bring your own things. You know that your own clothing and helmet fit properly. It would be a nuisance to borrow a helmet that fitted initially and then later on was uncomfortable during the tour.
How long are the daily stages? Do we stop for rests?
The daily stages vary according to the tour and the country and are quite easy to follow. We make regular stops on the Guided Tours. There is also plenty of time allowed for relaxation, sightseeing, photo stops, etc.
How can I pay during the tour?
We recommend bringing some cash in the local currency. It is also possible to pay by credit card in most restaurants and souvenir shops. Recommendation: The credit card should be valid for at least six months.
When arriving by aircraft, I can only carry limited luggage. Is it possible to do laundry on the tour?
Of course. Many hotels offer laundry facilities.
What happens to my luggage during the tour?
Usually an Escort Vehicle with a driver accompanies our Guided Tours. He loads up the luggage in the morning and takes it to the hotel in the evening. All our motorcycles have saddlebags or cases, while most of them even have luggage carriers for personal items that may be needed en route.
Do I need to have vaccinations to go on your tours?
No, we do not organise tours in any regions where vaccinations are required.
Do I need a passport or is an identity card adequate?
You need a passport for travelling overseas. We recommend a passport that is valid for at least six months.
What happens if I suddenly become ill before the tour and have to stay home?
We recommend that you take out travel refund cost insurance when you make a booking. You can do this with us as we are a partner agency for ERGO Reiseversicherung AG. This protects you from any financial loss. Also, when you want to make a new booking you are assured that you will get a place.
Motorcycles
Which rental motorcycles do you offer? How old are they?
We specialise in Harley-Davidson. We provide the most popular models, which are well maintained and cared for. Please ask for any other motorcycle make you are interested in.
Is there an age limitation for your tours?
Due to the rental motorcycle conditions Riders usually need to be at least 25 years old.
What sort of drivers licence do I need?
Generally you need a valid drivers licence for motorcycles. For overseas travel we recommend you carry an international drivers licence.
Is insurance included with the rental motorcycle?
Yes. In each particular country we offer the best available insurance with a low security deposit. The motorcycle insurance is included in the tourprice. New: Beside the included third party and comprehensive insurance for the rental vehicle, the optional Reuthers POMZEC (Peace Of Mind Zero Excess Coverage) program takes care of the usual comprehensive insurance excess (up to EUR 2,500 or converted foreign currency), should you get in an accident while driving your rental vehicle or if your rental vehicle gets stolen by punishable acts of third parties. Reuthers POMZEC is valid worldwide - unfortunately for insurance reasons not in Germany, not in your home country and not for Swiss citizens.
Services and additional services
If I arrive on my own, how do I get from the airport to the hotel and what happens on the return flight?
With our Guided and Semi Guided Tour versions, we look after the transfers from the airport - hotel - rental station - hotel - airport (if the hotel is booked with us). We know from our own experience how important it is to receive personal attention when you arrive after a flight.
Is it possible to book additional activities to your tours?
In our tours nearly everything is included. Nevertheless some particular individual wishes can be booked additionally to the tours. We offer, for example, a helicopter flight or, if you arrive one day earlier, an attractive day trip.
What exactly is your Reuthers Rewards Program?
The popular bonus program for our loyal clients. You are credited Reuthers Rewards for every booking you make with Reuthers. These correspond exactly to the total price (converted in Euro). From your second booking on, you can use your points to obtain a discount for your next tour or event. For more and current information > Reuthers Rewards
New Zealand Specials
Will I learn more about the history and culture of this fascinating country?
Yes. In the capital of the Maori in Rotorua, we will participate in an original Maori cultural evening followed by a Maori Hangi Dinner. Furthermore we will visit the Waitangi Grounds, the birthplace of the modern New Zealand. There you will learn something about the Treaty of Waitangi, the famous contract between the Maori and the British. A further trip is to the National Museum, Te Papa, in Wellington.
Which type of climate can be expected?
The seasons in New Zealand are contrary to the seasons in the northern hemisphere. The climate on the two islands is well-balanced. We recommend taking rain gear on all our tours.
What about traffic rules in New Zealand?
How are the road conditions in New Zealand?
The road conditions in New Zealand are excellent, with nice curves and only little traffic.
We will use the ferry between the North Island and the South Island. How long is the passage?
The passage on the Interislander Ferry lasts three hours and is one of the highlights of our tour. We will experience the beauty of the landscape and have time for some unique snapshots.
What is your "3 Days Xtra Package" from Christchurch to Auckland?
Instead of shipping the motorcycle back to Auckland, we pass the savings to our clients and provide three tour days including all services for a very special price.
Do I need a visa for participating in your tour? Are there specific entry instructions?