Special Event Tour
European Bike Week
Reuthers Harley-Davidson BMW

This 11-day Reuthers Special Event Tour European Bike Week starts and ends in the Bavarian capital Munich and includes parts of our popular Alps & Lakes Tour. From Munich we start off heading towards Salzburg and Berchtesgaden, where we visit the famous Eagle's Nest and the salt mines of Bad Reichenhall. After a boats tour on the beautiful Königssee we are travelling further to Gmunden and to the Red Bull Ring. A visit to the biggest motorcycle event in Europe is lying ahead of us: The European Bike Week at the Faaker See. Here we stay for two nights to experience this amazing Motorcycle Event. Our ride continues over serpentines towards the National Park Hohe Tauern to the Grossglockner at 2504 meters - this is a unique driving experience. But you reach even greater heights: with the cable car we are going up to the Zugspitze. Next highlight will be Neuschwanstein Castle for a historical castle tour, before you finish this exciting motorcycle tour in Munich.
Learn more about this Special Event Tour:
Non Plus Ultra > GUIDED TOUR
This is a guided adventure tour with a Reuthers Tour Guide. In addition, nearly everything is included in the tour. This includes the rental motorcycle and overnight stops, plus the cost of fuel (usually we fill all the motorcycles together and thus save precious time). The tour includes entry costs and park fees plus many other amenities. We do not have any hidden costs.
What's included:
* The Original Tour - developed and organised by Reuthers
* Reuthers Tour Guide - trained and multilingual
* Harley-Davidson or BMW Rental Motorcycle for the Tour including comprehensive Insurance
* 11x Accommodation Middleclass Hotels in shared Double Room (1 common bed)
* All Accommodation including Breakfast
* Reuthers Partner Vacation Program© (Escort Vehicle for Companions)
* Luggage Transportation during the Tour
* Reuthers Secured Payment Certificate (Sicherungsschein)
* Reuthers Tour Book with Itineraries and Tips
* Reuthers Travel Lecture
* Reuthers Welcome Drink
* Welcome Dinner in Restaurant
* Farewell Dinner in Restaurant
* Reuthers Roadside Lunch©
* Fuel for the Tour
* Transfers Airport > Hotel > Rental Station > Hotel > Airport
* Entrance and Parking Fees (Saltmine Berchtesgaden, Red Bull Ring, Boat Trip St. Bartholomae, Zugspitze Cable Car, Neuschwanstein Castle)
* Austria + Germany toll way permit stickers and toll fees (Grossglockner High Alpine Road, Gerlos Pass)
* Reuthers Special Event Polo Shirt
* Reuthers Special Event Certificate
* Reuthers Special Event Video/Pictures
* Reuthers Rewards
Best Value - NO Hidden Costs > Why Reuthers?
Optional Booking:
Munich Best Of (Guided Van Travel on Day 1 including additional accommodation)
Date:
Please ask for Details!
Pricing:
Rider Rental Motorcycle = EUR 4975
Rider own Motorcycle (Reuthers BYOM©) = EUR 3615
Passenger Motorcycle = EUR 2935
Passenger Escort Vehicle = EUR 3035
Single Room extra charge (unfortunately due to the European Bike Week there are no single rooms available in Villach) = EUR 865
Twin Room (2 separate beds) extra charge = EUR 145
> Convert into your currency
All pricing payable in Euro.
3% "Early Bird Discount" (booking more than 12 months prior tour start)
2% "Golden Ager Discount" (age min 60 years prior tour start)
10% "Group Discount" (from 8 participants, all registrations within one week, common Payment of Balance by Bank Transfer)
Please note: Total Discount max. 10% for Deposit by Credit Card and Payment of Balance by Bank Transfer. No Discount for Deposit and Payment of Balance by Credit Card or by PayPal.
Important note about > Pricing
Please select from the designated Harley-Davidson touring models.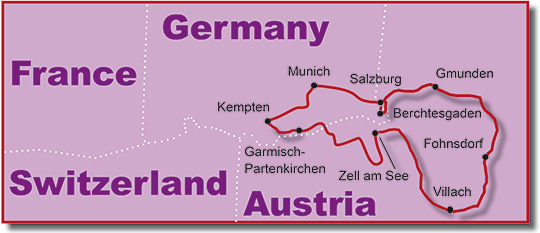 The Route:
Day 1: Munich (GER)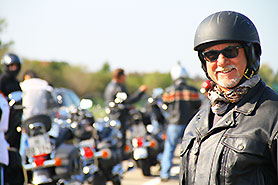 Welcome to Munich, the capital of Bavaria. After a transfer to your hotel, meet your fellow travellers with a welcome drink and dinner in the evening.
Day 2: Munich (GER) > Salzburg (AUT)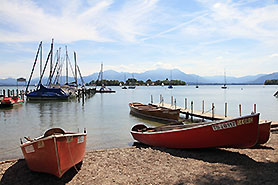 After collecting our Harley-Davidson / BMW motorycles from the rental office we begin our trip and travel to the Chiemsee, where we will stop for lunch. Our overnight stay is in Mozart's hometown Salzburg.
Day 3: Salzburg (AUT) > Berchtesgaden (GER)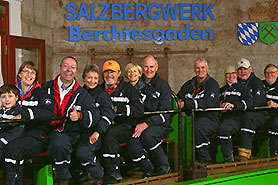 First thing in the morning we will visit the saltmine, where the famous Bad Reichenhall brand salt originates. Deep down underneath the Salzberg mountain a secret world awaits us. For many years, only the salt miners in Berchtesgaden were allowed to enter the complex tunnel system. Next highlight of the day will be the so called Eagle's Nest, formerly Adolf Hitler's home and southern headquarters. We spend the night in Berchtesgaden at the foot of the Obersalzberg.
Day 4: Berchtesgaden (GER) > Gmunden (AUT)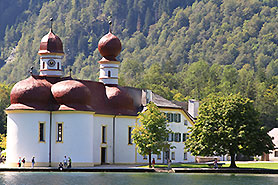 Our ride continues to the Königssee, where a boat trip to the St. Bartholomä island and several other sights await us. While enjoying the spectacular Alps scenary, we will ride our Harleys along the Mondsee, Attersee and Traunsee to our overnight camp in Gmunden.
Day 5: Gmunden (AUT) > Fohnsdorf (AUT)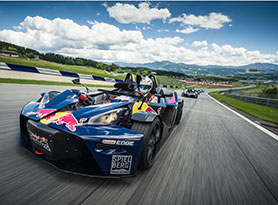 Fotocredit © Philip Platzer
Today we visit the Red Bull Ring, a racetrack and adventure park to learn more about the Formula 1. We stay the night close by in Fohnsdorf.
Day 6: Fohnsdorf (AUT) > Villach (AUT)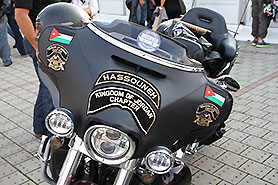 Finally we will head to Villach to be close to the European Bike Week. Riders from all over the world are travelling to the Faaker See...
Day 7: Faaker See / Villach (AUT)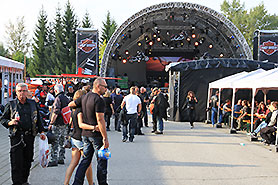 With more than 100.000 visitors each year, the European Bike Week is the biggest motorcycle event in Europe and we take part at the Grand Opening Party!
Day 8: Villach (AUT) > Zell am See(AUT)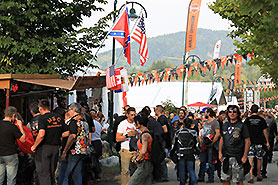 After a long day - and an even longer night - we leave the Faaker See for more adventures in the Alps of Austria and Germany. For a good reason we will have our next overnight stay in Zell am See.
Day 9: Zell am See (AUT) > Garmisch-Partenkirchen (GER)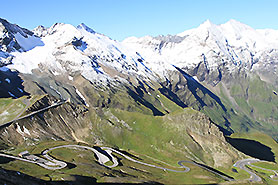 On our longest day of this Motorcycle Tour, the most famous High Alpine Road leads us into the heart of the Hohe Tauern National Park, to the highest mountain in Austria, the Grossglockner (3798m) and its glacier, the Pasterze. It is a driving and nature experience of a special kind on 48 kilometers of high alpine road with 36 bends and curves, and an altitude ascent of 2504 metres. We will pass a unique world of mountains with blossoming alpine meadows, fragrant mountain forests, massive cliffs and eternal ice at the foot of the Grossglockner, the Kaiser-Franz-Josefs-Höhe. After a Reuthers Roadside Lunch we continue over the Gerlospass to the Achensee and finally arrive at our destination Garmisch-Partenkirchen.

Enjoy a Harley-Davidson ride to the Edelweiss Spitze / Bikers Nest on the Grossglockner High Alpine Road - recorded by Hermann Reuther in August 2011.
Day 10: Garmisch-Partenkirchen (GER) > Kempten (GER)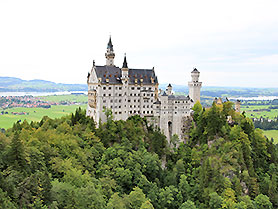 In the morning we will enjoy another unforgettable experience up high on the roof of Germany, arriving by cable car. Further planned sightseeing is the highlight of the day, Neuschwanstein Castle. The shy King Ludwig II built the castle just for himself in order to withdraw from public life. Neuschwanstein is since 1886 one of the most popular of all the palaces and castles in Europe. We will stay the night near Kempten.
Day 11: Kempten (GER) > Munich (GER)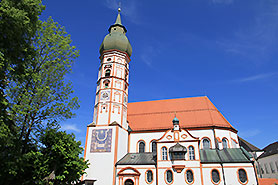 On our last day on the road we will ride back to Munich and pass the Starnberger See, the Ammersee and visit the monestry Kloster Andechs. We will return our Harley-Davidson / BMW motorcycles to the rental office and transfer to the hotel. In the evening we will get together for our traditional farewell dinner and reminisce over our shared motorcycle tour including the European Bike Week.