Rental Car Tour
Discover
New Zealand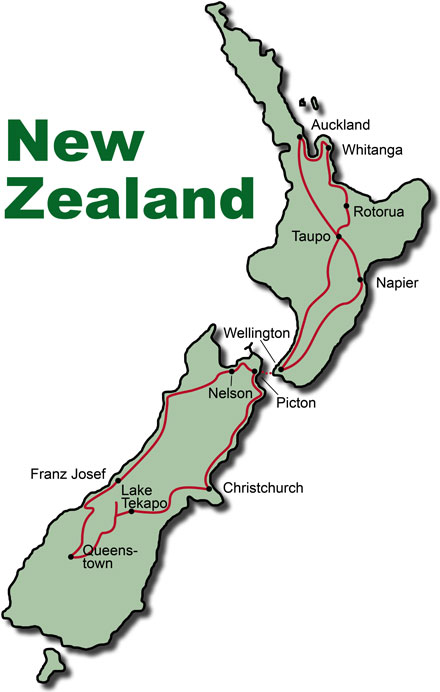 On this round trip through New Zealand "Discover" in 12 days the most beautiful highlights that the paradisiacal country at the end of the world has to offer. Your round trip begins in Auckland in the high north and leads you over the green Coromandel peninsula to the city well known for its simmering geysers Rotorua. Here you also have the opportunity to get to know the ancient culture of the Maori in the course of a Maori Dinner with an acting demonstration.
You then continue your round trip through New Zealand with a drive passing the 2797 high Mount Ruapehu and visiting the Lake Taupo before you reach the capital of New Zealand, Wellington, where you will spend the night.
In Wellington you have the possibility to visit the National Museum of New Zealand Te Papa, before you cross over to the south island with a ferry. From the harbor in Picton your round trip leads you pass the Tasman to the sunny town of Nelson where you will spend the night.
Yet many further highlights await you in the coming days, amongst them the Pancake Rocks with their blow holes through which the sea water bubbles, that gold mining city Ross and of course the imposing Franz Josef Glacier, that you can view more closely by request per helicopter.
You cross the Wakatipu Lake with an old steam ship, visit one typical New Zealand sheep farm and spend the night afterwards in Queenstown before you continue the next day to Mount Cook, the highest mountain of the country.
After an overnight stay at Lake Tekapo, your round trip through New Zealand gradually leads you back north. Then you will visit the beautiful city Christchurch and drive through the wine growing region Marlborough back again to Picton to the ferry harbor. Your last stop is Napier, a city which is known for its beautiful art deco building before you finally return to Auckland, where you will drop off your rental car.
Enjoy a Dream Vacation by Reuthers in New Zealand. This new Rental Car Tour will be online shortly.