Rental Car Tour
Highway 1
USA / America

After arriving in Los Angeles, you will pick up your rental car and head north on the famous Highway 1. Have a look at the upper class town Malibu, in which numerous Hollywood stars have their villas with a sea view, Santa Barbara with a Spanish touch and the popular tourist town Solvang, a bit of Denmark in the Californian deserts. After an overnight stay in Morro Bay, you will drive on the most beautiful coastal section of California through Big Sur and Monterrey to San Francisco. Here you have an entire day to explore the sights such as the prison island Alcatraz and the waterfront Fisherman's Wharf. We recommend a bike ride over the Golden Gate Bridge that you will cross again with the car on the way north the next morning. In Mendocino, you will leave the coast and the Highway 1 behind you and drive through The Mendocino National Forest, the capital Sacramento and the old gold mining city Placerville to the Lake Tahoe, a popular vacation area for Americans. After a trip through the Toiyabe National Forest you will reach the oldest settlement in Nevada Genoa and afterwards Reno, the second best known gambling city of the USA, in which you will spend the night. Of course the number one is not missing from your round trip in California: After a trip through the Nevada desert with its gold mining sites and abandoned ghost towns, you will reach Las Vegas where you have a further day entirely to your own disposal. Gamble in the casinos, go on a shopping spree or just relax at the hotel pool. Experience the Wild West once again on the trip through the Mojave Desert to Barstow. Take a short trip to the old silver mining city of Calico, before you return to Los Angeles where you will drop off your rental car.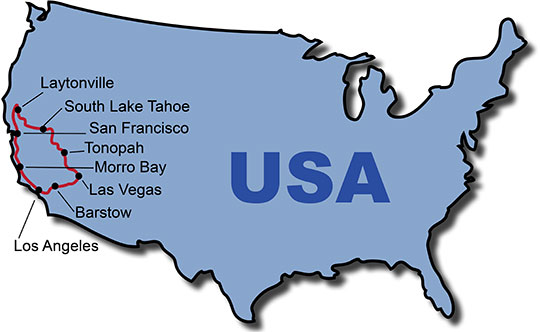 The Route:
Day 1: Los Angeles > Morro Bay
Day 2: Morro Bay > San Francisco
Day 3: San Francisco
Day 4: San Francisco > Laytonville
Day 5: Laytonville > South Lake Tahoe
Day 6: South Lake Tahoe
Day 7: South Lake Tahoe > Tonopah
Day 8: Tonopah > Las Vegas
Day 9: Las Vegas
Day 10: Las Vegas > Barstow
Day 11: Barstow > Los Angeles
Learn more about this Self Drive Rental Car Tour:
What's included - Pricing
What's included:
* The Original Tour - developed and organised by Reuthers
* Rental Car - compact class - for the Tour including comprehensive insurance
* 11x Accommodation Middleclass Hotels/Motels in shared Double Room
* Secured Payment Certificate (Sicherungsschein)
* Reuthers Tour Book with Itineraries and Tips
* Reuthers Travel Lecture (in English)
* Reuthers Rewards
Dates:
Please feel free to tell us your individual date!
Pricing:
Driver Rental Car = USD 2625
Passenger Rental Car = USD 1645
Twin Room extra charge (2 separate beds instead of 1 common bed) = USD 135
Single Room extra charge (instead of shared Double Room) = USD 1205
Optional Bookings:
GPS navigation device for Rental Car = on request
Higher class for Rental Car = on request

All pricing payable in US Dollar.
3% Early Bird Discount (booking more than 12 months prior tour start)
2% Golden Ager Discount (age min 60 years prior tour start)
10% Group Discount (from 8 participants, all registrations within one week, common Payment of Balance by Bank Transfer)
Please note: Total Discount max. 10% for Deposit by Credit Card and Payment of Balance by Bank Transfer. No Discount for Deposit and Payment of Balance by Credit Card or by PayPal.
Paying in the above tour currency is the cheapest way. If you prefer another currency - simply select:
| | | | | | | |
| --- | --- | --- | --- | --- | --- | --- |
| | | | | | | |
| EUR | USD | NZD | AUD | CAD | GBP | ZAR |