Rental Car Tour
Highlights
New Zealand


Spectacular scenery, lakes and mountains - this is New Zealand
On this rental car round trip through New Zealand you will become acquainted with the highlights of both islands this beautiful country has to offer. You will start your round trip in Auckland, way up in the north of the country, where you will pick up your rental car and drive along the Pacific Coast Highway to the scenically beautiful Coromandel peninsula. After an overnight stay in Whitianga, you can take a refreshing walk directly at the sea to the Cathedral Cove, a unique rock formation on the coast. The trip continues on to Rotorua where you will get to know the ancient culture of the Maori in the Tamaki Village and participate in a traditional Hangi Dinner. Your round trip takes you past Mount Ruapehu and Lake Taupo and directly to Napier, a city that is well known for its lovely art deco buildings. You will stay the night at the boardwalk of Napier before you head the next day to the capital of New Zealand, Wellington. The next morning you have the possibility to visit the National Museum of New Zealand Te Papa, before in the afternoon you cross over to the south island with a ferry. Continue on to Nelson where you will spend two nights and take a day trip to the Abel Tasman National Park. Over the Buller Gorge Road, you travel on to Cape Foulwind and visit the Pancake Rocks before move into your next quarters in Greymouth. In Ross, you can find out about the time of the New Zealand gold rush before you reach the Franz Josef Glacier, which you can view more closely by helicopter. Queenstown awaits you as your next stop on your New Zealand round trip, well known as a capital of the adventure lovers. They come to this lovely area for bungee jumping, parasailing or riding a jet boat. A little quieter is a boat trip on the Lake Wakatipu and a visit to a sheep farm. With the Milford Sound the most famous natural wonder of New Zealand awaits you. You will discover the 16 kilometer long fjord on a cruise and can experience dolphins, penguins and whales in free nature. The next morning, you will visit the bird sanctuary Stewart Island on the south coast and have an overnight stay in Invercargill. After exploring the Catlins and Dunedin, your New Zealand rental car tour ends with an overnight stay in Christchurch where you return your rental car and head back home. As an option you can keep the rental car for further days and drive back to Auckland.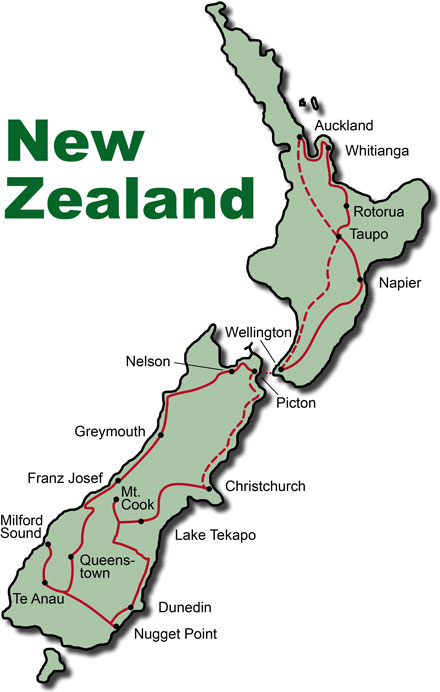 The Route:
Day 1: Auckland > Whitianga
Day 2: Whitianga > Rotorua
Day 3: Rotorua > Napier
Day 4: Napier > Wellington
Day 5: Wellington > Nelson
Day 6: Nelson
Day 7: Nelson > Greymouth
Day 8: Greymouth > Franz Josef
Day 9: Franz Josef > Queenstown
Day 10: Queenstown > Te Anau
Day 11: Te Anau
Day 12: Te Anau > Invercargill
Day 13: Invercargill > Dunedin
Day 14: Dunedin > Christchurch
Learn more about this Self Drive Rental Car Tour:
What's included - Pricing
What's included:
* The Original Tour - developed and organised by Reuthers
* Rental Car - compact class - for the Tour including comprehensive insurance
* 14x Accommodation Middleclass Hotels/Motels in shared Double Room
* Secured Payment Certificate (Sicherungsschein)
* Reuthers Tour Book with Itineraries and Tips
* Reuthers Travel Lecture (in English)
* Maori Culture with Hangi Dinner
* Dinner Walter Peak High Country Farm
* Milford Sound Nature Cruise
* Steamship Passage TSS Earnslaw
* Ferry Wellington > Picton
* Ferry Stewart Island
* Reuthers Rewards
Dates:
Please feel free to tell us your individual date!
Pricing:
Driver Rental Car = NZD 5565
Passenger Rental Car = NZD 2015
Twin Room extra charge (2 separate beds instead of 1 common bed) = NZD 175
Single Room extra charge (instead of shared Double Room) = NZD 1145
Optional Bookings:
GPS navigation device for Rental Car = on request
Higher class for Rental Car = on request

All pricing payable in New Zealand Dollar.
3% Early Bird Discount (booking more than 12 months prior tour start)
2% Golden Ager Discount (age min 60 years prior tour start)
10% Group Discount (from 8 participants, all registrations within one week, common Payment of Balance by Bank Transfer)
Please note: Total Discount max. 10% for Deposit by Credit Card and Payment of Balance by Bank Transfer. No Discount for Deposit and Payment of Balance by Credit Card or by PayPal.
Paying in the above tour currency is the cheapest way. If you prefer another currency - simply select:
| | | | | | | |
| --- | --- | --- | --- | --- | --- | --- |
| | | | | | | |
| EUR | USD | NZD | AUD | CAD | GBP | ZAR |