Rental Car Tour
Route 66 Dream
USA / America

Your dreams will come true on the legendary Route 66 across the USA. You will start your 15 day adventure in the city of Chicago, where you will pick up your rental car to drive through the state of Illinois to Springfield. You can slowly become accustomed to the leisure speed on the US Highways, of which the maximum speed limits are 105 km/h, (65 miles per hour) and sometimes even racy 75 mph (120 km/h). On the second day of your round trip on the Route 66 you will reach St. Louis at the Mississippi whose gateway is well known as the "McDonalds Arch" The arch refers symbolically to the past of the city as a gate to the Wild West. Actually you are now in the middle west and cross the states Missouri, Kansas and Oklahoma where you will spend the night in Oklahoma City. As a side trip, a visit to the Meramec Caves is worthwhile, in which in earlier time?s bandits such as Jesse James hid themselves in order to escape the law. A popular objective of photographers is the bridge over the Canadian River with its 38 metal arches in the west of Oklahoma. You will drive over it on your way to Clinton where a visit to the Route 66 museum is worth your while. A last stopover is the famous Cadillac Ranch, your next overnight stop. The trip continues on into the deep Wild West to Santa Fe and into the unique desert landscape of New Mexico. A special overnight stay in Gallup awaits you: The El Rancho hotel, in that once stars such as Humphrey Bogart and John Wayne stayed when they shot a western film in the area. On the next two days famous natural wonders such as Monument Valley, the "Petrified Forest" and the so-called ?Painted Desert" await you, as well as an exciting overnight stay in the reservation of the Navajo Indians in Chinle. After a visit to the Grand Canyon where you have the possibility to go on a helicopter flight, you will arrive in the gambling metropolis Vegas where you will spend the night in the legendary "The Mirage" hotel directly on The Strip. Your round trip on the Route 66 finally ends at the Pacific in the well known swim resort Santa Monica in Los Angeles, where you will drop of your rental car and can continue your vacation in California or head back home from Los Angeles.

...get your kicks on Route 66 - from east to west = the historical direction!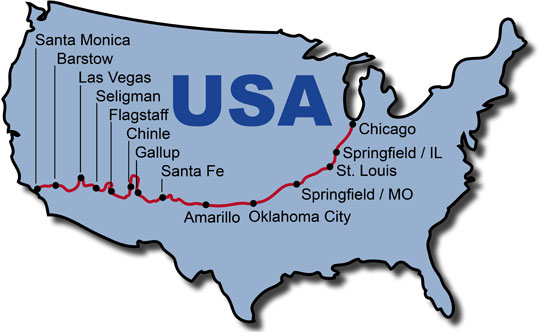 The Route:
Day 1: Chicago > Springfield, ILL
Day 2: Springfield, ILL > St. Louis
Day 3: St. Louis > Springfield, MO
Day 4: Springfield, MO > Oklahoma City
Day 5: Oklahoma City > Amarillo
Day 6: Amarillo > Santa Fe
Day 7: Santa Fe
Day 8: Santa Fe > Gallup
Day 9: Gallup > Chinle
Day 10: Chinle > Flagstaff
Day 11: Flagstaff > Seligman
Day 12: Seligman > Las Vegas
Day 13: Las Vegas > Barstow
Day 14: Barstow > Santa Monica
Learn more about this Self Drive Rental Car Tour:
What's included - Pricing
What's included:
* The Original Tour - developed and organised by Reuthers
* Rental Car - compact class - for the Tour including comprehensive insurance
* 14x Accommodation Middleclass Hotels/Motels in shared Double Room
* Secured Payment Certificate (Sicherungsschein)
* Reuthers Tour Book with Itineraries and Tips
* Reuthers Travel Lecture (in English)
* Reuthers Rewards
Dates:
Please feel free to tell us your individual date!
Pricing:
Driver Rental Car = USD 4495
Passenger = USD 1565
Twin Room extra charge (2 separate beds instead of 1 common bed) = USD 195
Single Room extra charge (instead of shared Double Room) = USD 1365
Optional Bookings:
GPS navigation device for Rental Car = on request
Higher class for Rental Car = on request
Grand Canyon Helicopter Flight = USD 229

All pricing payable in US Dollar.
3% Early Bird Discount (booking more than 12 months prior tour start)
2% Golden Ager Discount (age min 60 years prior tour start)
10% Group Discount (from 8 participants, all registrations within one week, common Payment of Balance by Bank Transfer)
Please note: Total Discount max. 10% for Deposit by Credit Card and Payment of Balance by Bank Transfer. No Discount for Deposit and Payment of Balance by Credit Card or by PayPal.
Paying in the above tour currency is the cheapest way. If you prefer another currency - simply select:
| | | | | | | |
| --- | --- | --- | --- | --- | --- | --- |
| | | | | | | |
| EUR | USD | NZD | AUD | CAD | GBP | ZAR |

You prefer > Riding a Harley-Davidson Motorcycle on Route 66 ?!