Rental Car Tour
Best Of
Australia

Explore Australia and it's seventh state of Tasmania
On this rental car round trip through Australia, you will discover in 17 days all the highlights the fascinating continent Down Under has to offer, including the Tasmanian Island. Your round trip through Australia starts in the metropolis Melbourne in the south east of the country. When you pick up your rental car you will first head west to the famous Great Ocean Road, one of Australia's natural wonders. Overnight stays in Port Campbell and Portland will give you enough time to explore the Great Ocean Road in detail before you continue on to Ballarat, where the reconstructed gold mine village Sovereign Hill takes you away into the time of the gold rush in the 19th century. Your round trip through Australia leads you next to the Murray River, the longest river of Australia, on which you will take a tour with an old steam ship, before you have the opportunity for a wine tasting in the wine building region of Routherglen. Through Albury, you will reach next the modern capital of Australia, Canberra, before you continue on to Sydney, the probably best known and most beautiful city of the country. Take a harbor cruise, spend a relaxing day at the Bondi Beach or visit a show in the world-famous opera. Continuing on from Sydney your round trip take you back towards Melbourne. This time though you will travel along the pituresque coastal road and the Princess Highway 1. Enjoy the solitude and the magnificent landscape before you reach Melbourne again and cross over with the ferry to the green island Tasmania. A round trip in Australia just isn't complete with a visit to this island, which is famous for its natural beauty. Discover the Tasmanian rain forest on a railroad trip or in the frame of a river cruise on the Gordon River before you continue after an overnight stay in Strahan to Hobart, the island capital. In Hobart, several highlights await you, including the Air Walk in the Tahune Forest where in a height of several meters you can walk through the tree tops. The former prison camp of Port Arthur gives you insights into the rough past of Australia as a British penal colony. Also an encounter with the Tasmanian Devil in the Tasman Devil Park is also part of the program before you return over Swansea and Devonport to Melbourne, where your round trip through Australia ends with the return of your rental car.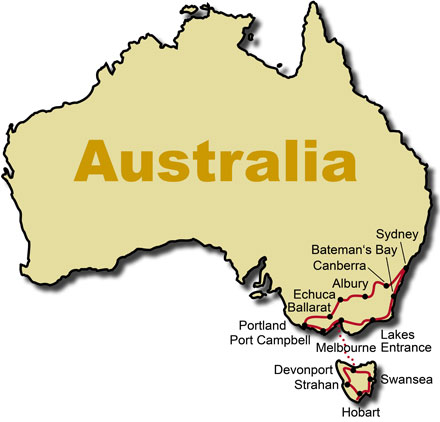 The Route:
Day 1: Melbourne > Port Campbell
Day 2: Port Campbell > Portland
Day 3: Portland > Ballarat
Day 4: Ballarat > Echuca
Day 5: Echuca > Albury
Day 6: Albury > Canberra
Day 7: Canberra > Sydney
Day 8: Sydney
Day 9: Sydney > Bateman's Bay
Day 10: Bateman's Bay > Lakes Entrance
Day 11: Lakes Entrance > Devonport
Day 12: Devonport > Strahan
Day 13: Strahan > Hobart
Day 14: Hobart
Day 15: Hobart > Swansea
Day 16: Swansea > Devonport
Day 17: Melbourne
Learn more about this Self Drive Rental Car Tour:
What's included - Pricing
What's included:
* The Original Tour - developed and organised by Reuthers
* Rental Car - compact class - for the Tour including comprehensive insurance
* 17x Accommodation Middleclass Hotels/Motels in shared Double Room
* Secured Payment Certificate (Sicherungsschein)
* Reuthers Tour Book with Itineraries and Tips
* Reuthers Travel Lecture (in English)
* Ferry Melbourne > Devonport > Melbourne
* Reuthers Rewards
Dates:
Please feel free to tell us your individual date!
Pricing:
Driver Rental Car = AUD 4695
Passenger Rental Car = AUD 2545
Twin Room extra charge (2 separate beds instead of 1 common bed) = AUD 185
Single Room extra charge (instead of shared Double Room) = AUD 1205
Optional Bookings:
GPS navigation device for Rental Car = on request
Higher class for Rental Car = on request

All pricing payable in Australia Dollar.
3% Early Bird Discount (booking more than 12 months prior tour start)
2% Golden Ager Discount (age min 60 years prior tour start)
10% Group Discount (from 8 participants, all registrations within one week, common Payment of Balance by Bank Transfer)
Please note: Total Discount max. 10% for Deposit by Credit Card and Payment of Balance by Bank Transfer. No Discount for Deposit and Payment of Balance by Credit Card or by PayPal.
Paying in the above tour currency is the cheapest way. If you prefer another currency - simply select:
| | | | | | | |
| --- | --- | --- | --- | --- | --- | --- |
| | | | | | | |
| EUR | USD | NZD | AUD | CAD | GBP | ZAR |