Rental Car Tour
Wild West
USA / America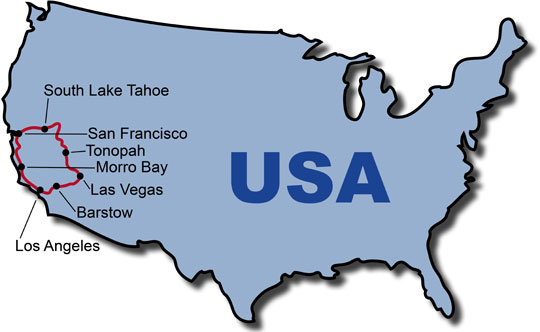 On this 7 day round trip in the west of the USA you will discover the best of the "Wild West": Cowboy romance in the Desert of Nevada, but also the modern cities of California.
Your Wild West rental car round trip in the west of the USA starts with the pickup of your rental car in Los Angeles.  To start off you will drive on the famous Highway 1 past the deep blue Pacific up north and visit well known places such as Santa Monica, Malibu, Santa Barbara and the Danish influenced Solvang. An overnight stay is in Morro Bay.
The tour goes on further north past the picturesque steep coast of Big Sur to San Francisco where you have enough time for a stroll through the town, before you continue the next morning over the world famous Golden Gate Bridge to the Californian capital Sacramento. Visit the old gold mining city Placerville or take part at a wine tasting in the El Dorado wine growing area. You will spend the night at the beautiful Lake Tahoe.
With the crossing of the state border from California to Nevada you will arrive in the Wild West and visit further gold mining cities such as Tonopah and Goldfield before you experience the modern version of a gold rush in the casino metropolis of Las Vegas: Maybe you'll win the grand prize?
Over the legendary Route 66, you leave Las Vegas again to visit the silver mining city Calico and Barstow where you will spend the night in the heart of the Mojave Desert. Afterwards your rental car round trip ends again in Los Angeles.
Learn more about this dream tour:
Individual Adventure > Self Drive Tour
What's included:
* The Original Tour - developed and organised by Reuthers
* Rental Car - compact class - for the Tour including comprehensive Insurance
* 7x Accommodation Middleclass Hotels/Motels in shared Double Room (1 common bed)
* Reuthers Secured Payment Certificate (Sicherungsschein)
* Reuthers Tour Book with Itineraries and Tips
* Reuthers Travel Lecture
* Reuthers Rewards Points
Optional Bookings:
* GPS navigation device for Rental Car
* Higher class for Rental Car
* Individual flight
Date/s:
Please feel free to tell us your individual date!
Pricing:
Driver Rental Car = USD 1795
Passenger = USD 1145
Single Room extra charge = USD 715
Twin Room (2 getrennte Betten) extra charge = USD 85
All pricing payable in US Dollar.
3% "Early Bird Discount" (booking more than 12 months prior tour start)
2% "Golden Ager Discount" (age min 60 years prior tour start)
10% "Group Discount" (from 8 participants, all registrations within one week, common Payment of Balance by Bank Transfer)
Please note: Total Discount max. 10% for Deposit by Credit Card and Payment of Balance by Bank Transfer. No Discount for Deposit and Payment of Balance by Credit Card or by PayPal.