Setting the stage for the Reuthers Motorcycle Tours Catalog 2017/2018: 145 pages full of wanderlust and adventure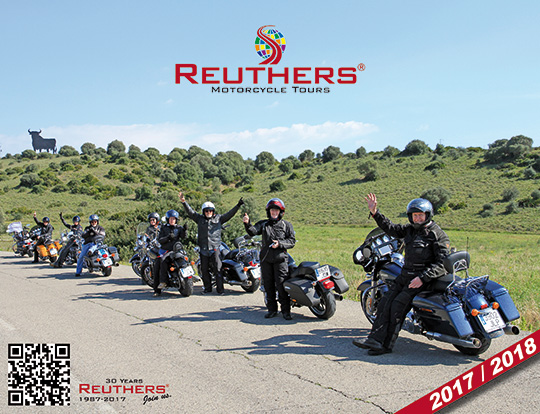 Press Release / Coburg, 15 September 2016
The first tour starts on January 3, 2017 and the last tour in the Motorcycle Tours Catalog 2017/2018 ends on December 13, 2018. In order to create these two years full of Reuthers moments, two crucial building blocks were needed:
1. The experience of Hermann Reuther who is celebrating two anniversaries in 2017 and 2. The inspiration of many clients. Together they became 145 pages full of adventure and wanderlust.
The highlights in the Reuthers Motorcycle Tours Catalog 2017/2018 are:
* Various tours have been adapted to the wishes of the clients: The Scotland Tour now also includes the North Coast 500 and is part of the My Heritage Tour, the Tuscany trip has been extended with a day in Siena and the Bella Italia Tour will remain outside of Tuscany.
* All tours have been timed, so that they can be perfectly combined with each other. An example: Those who are looking forward to the Tuscany destination on the Bella Italia Tour, now have the opportunity to combine both tours together. This principle has also been applied to some of the other tours.
* Significantly more tour packages are available in Europe, as close to home vacations are more popular than ever and also offer the advantage that you can cruise along with your own motorcycle.
* The offer for individuals has been significantly expanded. So there are more tours of the Self Drive and Semi Guided variant, which can be driven by means of a good tour organization à la Reuthers without a guide.
Prices are true anniversary prices because looking back on 30 years of REUTHER-ENTERTAINMENTS and 20 years of Reuthers Motorcycle Tours it is time to thank the clients for their loyalty with excellent anniversary prices.
Download > Reuthers Motorcycle Tours Catalog 2017/2018

Press Contact:
REUTHER-ENTERTAINMENTS
Press and Public Relations
Buchenweg 13
96450 Coburg
Germany
Fon +49-9561-7059-370
Fax +49-9561-7059-379
eMail: press @ reuthers.com