Press Release
Reuthers Harley-Davidson on the historical traces of New Zealand:
The Waitangi Treaty House is a program item on the New Zealand Paradise Tour
Coburg, October 14, 2014
On February 6, 1840, the history of New Zealand as a British colony was sealed. In the Treaty House, the same named contract was signed between British envoys and Maori Chiefs. Whether at the time of the signing of the contract no foul play was involved or votes of the Maori chief were obtained by bribery is today very difficult to prove without any doubt historically. It is clear that breaches of contract led to a compensation of the Maori. For clarification of contentious legal issues in relation to the Treaty of Waitangi the Waitangi Tribunal was founded.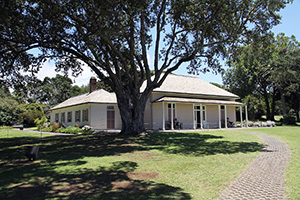 Foto: REUTHER-ENTERTAINMENTS
Today, the 6th of February the Waitangi Day is a national holiday and celebrated in New Zealand. The Treaty House situated on the Waitangi Ground near the New Zealand town of Paihia was made into a memorial site for the public. As one of the oldest preserved buildings in New Zealand it is an official cultural monument, and part of the Reuthers New Zealand Paradise Tour.
Decades of Reuthers experience also makes this tour an unforgettable tour. While the Reuthers team takes care of the complete organization, participants can enjoy every minute to the fullest - and in addition you can learn about the culture of the Maori, visit world cities and unique natural wonders.
Sweepstakes: With a little luck, the participants can win the Paradise Tour or another booked Motorcycle Dream Tour. Anyone who books till December 31st 2014, ends up as a participant in the lottery wheel. Per 100 registrations there will be one winner.
Reuthers Tip:
The tour can also be found in the Reuthers tour program as an Adventure Tour or a tour for passionate photographers.
Information:
> New Zealand Paradise Tour riding a Harley-Davidson
> Sweepstakes "Win Your Reuthers Dream Tour"
Press Contact:
REUTHER-ENTERTAINMENTS
Press and Public Relations
Buchenweg 13
96450 Coburg
Germany
Fon +49-9561-7059-370
Fax +49-9561-7059-379
eMail: press @ reuthers.com