Press Release
The Reuthers Harley-Davidson Sweepstakes:
Win a voucher for motorcycle dream tour!
Coburg, June 16, 2014
In the period from July 1st to December 31st, 2014 motorcycle friends have the chance to win a travel voucher for a Reuthers Motorcycle Dream Tour. Participating in the sweepstake is very simple: From each one hundred tour bookings in the above-mentioned time period the winner of a travel voucher will be drawn. This allows the free participation in the pre-booked tour. Tempting? Indeed! Because surely any motorcyclist would probably love to enjoy an unforgettable trip on a Harley-Davidson motorcycle and having a dream come true.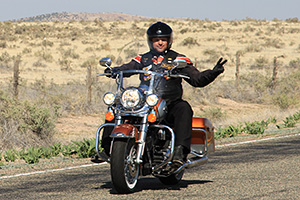 Foto: REUTHER-ENTERTAINMENTS
Reuthers Motorcycle Tours take participants to particularly impressive places and offers a feeling of limitless freedom. As the tour participants usually come together from all over the world for an unforgettable motorcycle road trip, global friendships among like-minded people develop. Of course, it is up to each motorcyclist to choose i.e a trip on the legendary Route 66 in the U.S. or on the Great Ocean Road in Australia maybe a tour through the Alps or a tour through Tuscany in Bella Italia.
Accompanied by a multi-lingual and experienced tour guide, an escort vehicle for luggage and passengers, the tour participants only have to do one thing: enjoy the tour from the saddle of their motorbikes to the fullest. Freedom, joy of life and the bubbling sound of a Harley in your ears. What can be more beautiful than this?
Through years of experience in organizing global motorcycle dream tours, Reuthers make it possible to meet special needs and wishes of the participant. And as an Harley-Davidson Authorized Tour Operator, Reuthers offers a wide selection of current Harley-Davidson models. Even those motorcycle friends that would prefer to ride on their tour a BMW, Triumph, Honda, Indian, Victory, Ducati or another different motorcycle, will get their money's worth, because Reuthers checks the availability of each desired model and will be happy to provide this if it is possible.
Experience the beauty of Europe, the United States, New Zealand, Australia, South Africa or Canada first-hand - and with a bit of luck even as winners of the Reuthers Harley-Davidson Sweepstake.
The dream of an unforgettable adventure is now within reach.

Information:
> Reuthers Motorcycle Tours
> Pressfotos

Press Contact:
REUTHER-ENTERTAINMENTS
Press and Public Relations
Buchenweg 13
96450 Coburg
Germany
Fon +49-9561-7059-370
Fax +49-9561-7059-379
eMail: press @ reuthers.com