The Christmas Album 2020:
"Weihnachten mit Teddy Herz"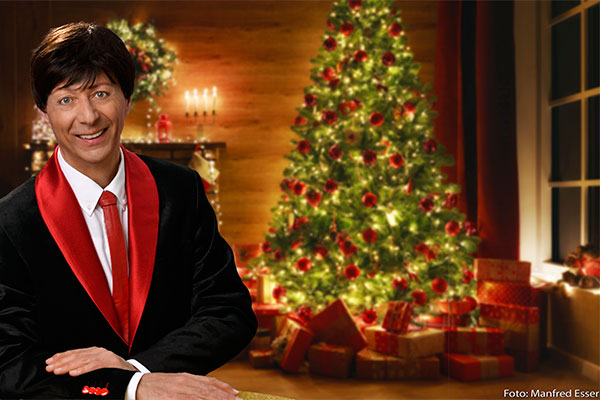 Press Release / Coburg, 28 September 2020
After his highly acclaimed debut album "Welche Farbe hat die Welt" (What color is the World), the popular singer and entertainer Teddy Herz proves once again with his second album "Weihnachten mit Teddy Herz" (Christmas with Teddy Herz) that he appeals to a broad and generation-spanning audience and that his "Schlager Rock'n'Roll", in the style of the 50s and 60s, has firmly established itself in the German music scene.
Teddy's Christmas songs "Top 10"
The new album contains Teddy's "Top 10" and he wants to fulfill musical Christmas wishes of a special kind.
"Weihnachten mit Teddy Herz" is my first Christmas album and contains five new recordings of well-known classics like "Let it snow", "Rudolph, the Red-Nosed Reindeer", "Winter Wonderland", "Jingle Bells", "Merry Christmas Everyone" as well as five own songs "Rock'n'Roll Weihnacht", "Susi liebt den Weihnachtsmann", "Wenn der Schneemann fröhlich lächelt", "Die alte Weihnachtsplatte" and "Jingle Bell Twist" - an album for the whole family - and with this I wish all friends, fans and music lovers a Merry Christmas time", says the audience's favorite.
Social commitment
In addition, Teddy Herz, who has always been socially committed, also wants to do something good for needy children in Germany. For each sold CD "Weihnachten mit Teddy Herz" 1 Euro will go to the Reuthers Children Charity, where donations are used 1:1 and exclusively for donations in kind. Teddy Herz : "A heartfelt thank you to Adelheid Reuther, who has been caring for this charity since 1998 on a voluntary and loving basis".
All songs were again produced by the producers and authors Michael Zai and the brothers Georg and Walter Woerle. Experienced studio musicians and the photos of star photographer Manfred Esser with styling by Mago Reim complete Teddy's Dream Team, which also includes the music label Reuthers Records and Reuthers Artist Management.
Available is "The" Christmas Album 2020 from 9 October 2020 as CD everywhere in stores and online shops as well as in all download stores and at streaming services.
Further Information > teddyherz.de
Press Contact:
REUTHER-ENTERTAINMENTS
Press and Public Relations
Buchenweg 13
96450 Coburg
Germany
Fon +49-9561-7059370
Fax +49-9561-97626109
eMail: press @ reuthers.com