"Marmor, Stein und Eisen bricht":
Teddy Herz releases new version of the German Schlager cult song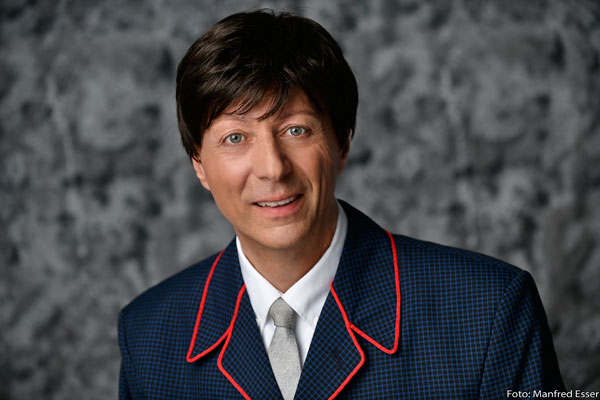 Press Release / Coburg, 24 August 2020
Musically the 60s will probably be forever connected with one, "The" German Schlager of superlatives: We are talking about "Marmor, Stein und Eisen bricht" (Marble, Stone And Iron Breaks), the most famous hit of Drafi Deutscher, with which he wrote Schlager history in 1965 and which is played at every party.
Since many years closely connected with "Marmor, Stein und Eisen bricht" is also singer and entertainer Teddy Herz. In his German Schlager-Revue he presents German Schlager from the 50s and 60s and combines them with his own songs in the style of this wonderful time. That this works is proven by his successful single and album releases and of course his atmospheric live shows, in which he inspires a generation-spanning audience.
The time is ripe
Teddy Herz took his time with his decision to re-record the cult song "Marmor, Stein und Eisen bricht" in the studio - just out of respect for the original. Together with producer Michael Zai he now created a contemporary version that gives the legendary song new hit potential based on the previous resonances.
Very successful remake!
It is certainly much more than a compliment when Christian Bruhn, the composer of "Marmor, Stein und Eisen bricht", describes the new version of his German Schlager cult song as a "Very successful remake!" and thanks for it. "This feedback from the master himself is a great honour for me", says the popular "Schlager Rock'n'Roller" Teddy Herz...
"Marmor, Stein und Eisen bricht" is released on the music label Reuthers Records and will be available from September 4th, 2020 at all Download Stores and Streaming Services - the current Teddy Herz Album "Welche Farbe hat die Welt" (What Color Is The World)" of course also available as CD in stores and online shops.
Further Information > teddyherz.de
Press Contact:
REUTHER-ENTERTAINMENTS
Press and Public Relations
Buchenweg 13
96450 Coburg
Germany
Fon +49-9561-7059370
Fax +49-9561-97626109
eMail: press @ reuthers.com