Press Release
The new Reuthers Motorcycle Tours eCatalog 2012/2013 is available for download: Just click the mouse to see the road movie.
Coburg, August 22, 2011
The new eCatalog from Reuthers Motorcycle Tours, the authorized Harley-Davidson tours operator, shows on 143 pages what is offered on five continents. Routes, schedules, benefits and general information can be downloaded from the website reuthers.com and printed as needed. With the online version it is also possible with just a click to interactively see the matching "road movie". Most of the Reuthers Motorcycle Tours, be it the U.S. Route 66, rides through New Zealand or the new Canada tour have been documented on film.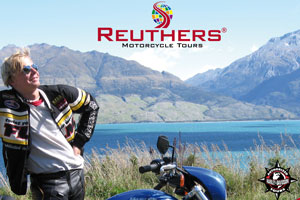 Foto: REUTHER-ENTERTAINMENTS
The new eCatalog from 2012/2013 presents itself with a clear and smooth layout. Large photos of the tour highlights make the reader curious for more. REUTHER-ENTERTAINMENTS founder and CEO Hermann Reuther recommends especially for motorcycle tours in New Zealand, to book early as the demand for the coming season is high. For him, New Zealand is "THE motorcycle rider's paradise".
Encouraged by the interest of the first edition this summer, the European Alps and Lakes Tour is being intensively advertised in the new eCatalog as it was a big hit among the participants from all over the world. A large part is also devoted to the celebration of the 25th anniversary of REUTHER-ENTERTAINMENTS. To mark this special occasion the motto is "Back to the roots". A very special Route 66 motorcycle tour is being offered. This is where the company's division Reuthers Motorcycle Tours all began.
An innovative travel concept in this context is also the Reuthers Golf Trophy Tour in South Africa, which follows the scenic Garden Route. Here the fun of motorcycling is linked together with the enthusiasm for golf sports.
Detailed and transparent, the new Reuthers eCatalog gives information concerning the course of the routes, attractions and what motorcycle models are available. It also describes the price structure and explains the travel insurance. In the FAQ section, typical questions are answered. The Reuthers eCatalog adapts itself again and again to fit your current needs and so when you download it at reuthers.com you'll always have the latest update from your tour operator.

Information:

Press Contact:
REUTHER-ENTERTAINMENTS
Press and Public Relations
Buchenweg 13
96450 Coburg
Germany
Fon +49-9561-7059-370
Fax +49-9561-7059-379
eMail: press @ reuthers.com