Press Release
With Reuthers Motorcycle Tours up to the Roof of the World:
Lhasa, Lamas and a longing for adventure in Tibet
Coburg, April 12, 2011
With their motorcycle tour through the country of Tibet from September 27th up to October 13th 2011 travel organisator REUTHER-ENTERTAINMENTS is entering new territories in addition to their other already diverse offers. For the first time an Asian country will be the travel destination and instead of the well known comfort of the Reuthers Tours, the focus here will be on simplicity and adventure. This is also reflected in the typical Tibetan boarding places. The members of the tour will be riding the legendary Royal Enfield motorcycles. These special cross-country vehicles are required to overcome the 5000 meter high mountain passes, such as the Gyatso La Pass or the Yulung La Pass in the highlands of Tibet. And this often on very basic unpaved roads. But it is also possible to take part of this tour as a passenger in a cross-country van. The route plan starts in Nepalesian Kathmandu and goes from the main stop in Lhasa to the famous Mount Everest Base Camp and then back to Kathmandu.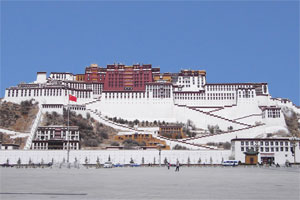 Foto: REUTHER-ENTERTAINMENTS
Many people with a passion for spirituality are meanwhile inspired by the teachings of Buddhism. One of the most important representatives of this world religion is the Peace Nobel Prize Laureate and spiritual leader the Dalai Lama with his originally Tibetan home. Even under the reign of the Chinese there is a tolerated intense religous life in the monasteries of Tibet. Places like the famous Potala, the former palace of the Dalai Lama, will be visited on the tour. Meanwhile Tibet is a country with enormous economic changes, rapidly changing the face of the once traditionally structured country. The participants of the Reuthers motorcycle trip will receive a unique opportunity of getting close up views of the country and its people.
Physically the travel will be a challenge for venturous motorcycle riders because they have come to grips with the literally "thin air" in great heights. Therefore this trip will be a chance for people with a sense of adventure who want to find out and expand their limits. After the start in Nepal's Kathmandu and the passing of the Tibetan border the route leads through deserted areas with breathtaking scenaries. In this region some of the worlds highest mountains can be found. A special focus of the tour is the several day stay in Lhasa with sufficient time to experience the monuments of Tibetan culture and religion. With the ride to the famous Mount Everest base camp the tour follows the traditional path that Sir Edmund Hillary and many others have followed before. With the return to Kathmandu one of the most exceptional Reuthers Motorcycle Tours will come to an end.


Information:
> reuthers.com
> facebook.com/reuthers
> Pressfotos

Press Contact:
REUTHER-ENTERTAINMENTS
Press and Public Relations
Buchenweg 13
96450 Coburg
Germany
Fon +49-9561-7059-370
Fax +49-9561-7059-379
eMail: press @ reuthers.com