ZDF series "Ku'damm 63": German Schlager singer Teddy Herz has a faible for the Wirtschaftswunderzeit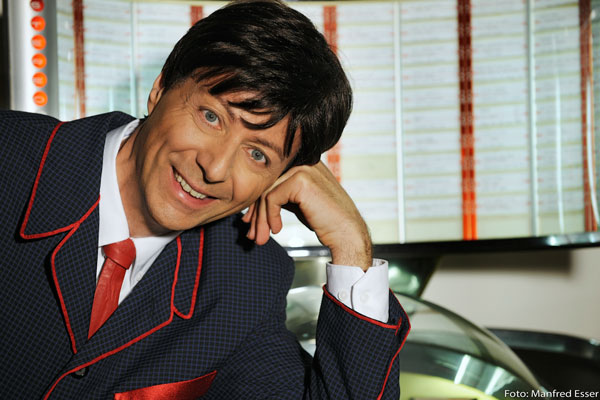 Press Release / Coburg, 23 March 2021
After the successful cult series "Ku'damm 56" and "Ku'damm 59" with the 50s, the ZDF series "Ku'damm 63" is set this time in 1963 and brings with the current series to the enthusiastic viewers the Wirtschaftswunderzeit (economic miracle era) in Germany of the 60s closer.
German Schlager of the 50s and 60s
Exactly for this era, the German Schlager singer and entertainer Teddy Herz has always had a faible and so he combines in his "Deutsche Schlager-Revue" popular German Schlager of the 50s and 60s with his own songs in the style of this wonderful time for today: "German Schlager Rock'n'Roll at its best!"
On the just released current single Teddy Herz claims, by the way, "Rock'n'Roll haelt jung" (Rock'n'Roll keeps young) and his very personal album with the title song "Welche Farbe hat die Welt" (What color is the world) then also contains songs like "Rote Lippen soll man küssen" (Lucky Lips), "Kiddy Kiddy kiss me", "Wenn Teenager träumen" (A Teenager's Romance) and "Der Hauptmann von Koepenick" (The captain of Koepenick).
Cult Schlager "Marmor, Stein und Eisen bricht"
A remake of the German Cult Schlager of the 60s "Marmor, Stein und Eisen bricht" (Marble, Stone and Iron Breaks) from the next album "Go Teddy Go!", which is currently in preparation, has already been released in advance as a single and has been described by the successful composer Christian Bruhn himself as a "Very Successful Remake!"
Radio Show "Souvenirs, Souvenirs
As a complement to the ZDF series "Ku'damm 63", Teddy Herz will dedicate his radio show "Souvenirs, Souvenirs" specifically to German Schlager songs from 1963 on Sunday, March 28, 2021 from 7-8 p.m. The show can be heard on Radio Schlager Musikanten, a radio station that plays exclusively German Schlager around the clock, was launched last year by REUTHER-ENTERTAINMENTS with the "Reuthers World Of Enjoyment" and is growing in popularity. A highlight is always on Sundays the "Schlager Hitparade" with the Top 10 of the listeners.
Press Contact:
REUTHER-ENTERTAINMENTS
Press and Public Relations
Buchenweg 13
96450 Coburg
Germany
Fon +49-9561-7059370
Fax +49-9561-97626109
eMail: press @ reuthers.com