Yoshi-O from now on in the Reuthers show program: Japanese Origami Art with entertainment value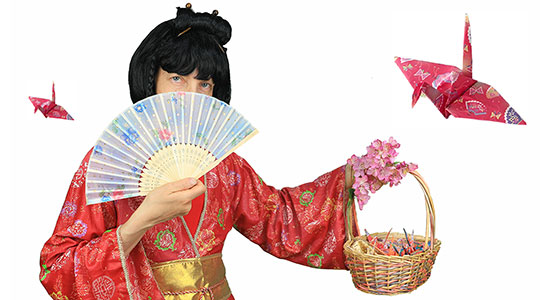 Press Release / Coburg, 1 August 2017
REUTHER-ENTERTAINMENTS is pleased to offer a new show act in their extensive show program. Yoshi-O is a tribute to the art of folding paper - called Origami in Japanese. The artist Yoshi-O, delights with an original Japanese costume and her folding skills, which she proves again and again during the events.
The Crane as a lucky charm
The focus is on the crane, which is a symbol of happiness in Japan and stands for a long and happy life. Yoshi-O entertains with a lot of charm and in doing so, folds cranes, which she presents to the visitors of the event as a small gift. Beautiful to look at and folded with a lot of care, the cranes are a wonderful decoration for your own home and a lasting memory of a magnificent event. Many use the cranes as a favorite souvenir for friends or customers. The unique feature of Yoshi-O's cranes is that each is individual and no crane is like the other. A colorful selection of Japanese origami paper makes it possible.
Best Entertainment from a professional
As an event specialist, Reuthers Event and Artist Management knows exactly what it takes to make a show a success. Since 1987, director Hermann Reuther has been working with his team to realize the most extraordinary ideas for his clients and helps them to make major events. A large portfolio of artists leaves nothing to be desired and offers show programs of the extra class. This ensures that the audience is well entertained and remembers the event for a long time.
For more information > Yoshi-O

Press Contact:
REUTHER-ENTERTAINMENTS
Press and Public Relations
Buchenweg 13
96450 Coburg
Germany
Fon +49-9561-7059-370
Fax +49-9561-7059-379
eMail: press @ reuthers.com