TV premiere: "Schlager Musikanten unterwegs" from the Franconian wine country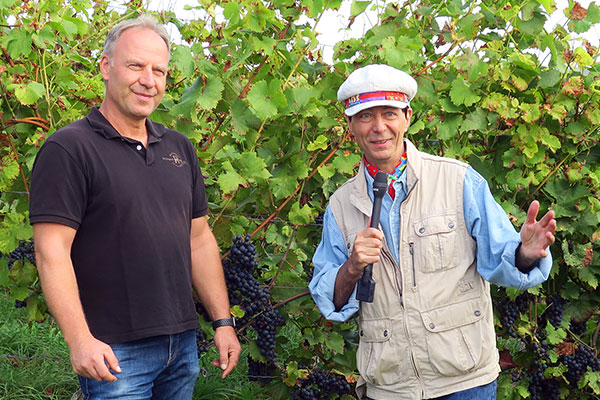 Press Release / Coburg, 7 October 2021
After the successful premiere of episode 1 of "Schlager Musikanten unterwegs" with the pilot show from Eisenach in Thuringia, the German Schlager singer and entertainer Teddy Herz presents in this second episode the Franconian wine country with the cities of Wuerzburg and Volkach as well as the Vogelsberg Gate and Untereisenheim.
"Hundertwasser Winery"
During an interview in the midst of the vineyards during this year's grape harvest as well as at his "Hundertwasser" winery in the cellar and vinotheque, Matthias Hirn then answers questions on behalf of the many wineries in Franconia and reveals a few things about viticulture, the unique Silvaner grape variety and his organic red wine.
Special guest in the broadcast is Selina, the wine princess of Untereisenheim - she tells us about her home.
Teddy Herz also welcomes Geri der Klostertaler, Uwe Busse and the MusikApostel as musical guests. In addition, there is a greeting from the Schlagerpiloten as well as a mood song from Teddy Herz, whom the people unceremoniously appointed "Captain of Hearts" during the music video shooting...
The premiere of the show will take place on Sunday, October 10, 2021 at 7 pm on Schlager Musikanten TV on YouTube.
"Schlager Musikanten unterwegs" is a Reuthers Media Production for Schlager Musikanten TV, a division of REUTHER-ENTERTAINMENTS and the Reuthers World of Enjoyment. In regular intervals, singer and entertainer Teddy Herz presents popular regions in Germany, Austria as well as Switzerland and welcomes Schlager stars with their songs. The Schlager portal also includes the Schlager Musikanten Magazine and Radio Schlager Musikanten with German Schlager around the clock.
Press Contact:
REUTHER-ENTERTAINMENTS
Press and Public Relations
Buchenweg 13
96450 Coburg
Germany
Fon +49-9561-7059370
Fax +49-9561-97626109
eMail: press @ reuthers.com