"The Hauptmann von Koepenick" returns musically: Live premiere on 11.11. at 11:11 am with Teddy Herz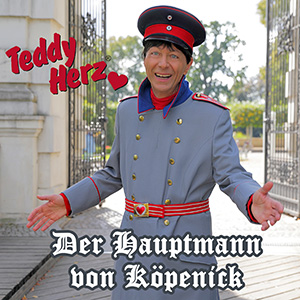 Press Release / Coburg, 14 October 2019
Just in time for the beginning of the Carnival on November 11, 2019, the German pop singer and entertainer Teddy Herz releases his new recording of the Drafi Deutscher hit "Der Hauptmann von Koepenick" on the music label Reuthers Records.
Both, the song composed by Christian Bruhn (he wrote German music history with "Marmor, Stein und Eisen bricht") in the 1960s as well as Carl Zuckmayer's play of the same name "Der Hauptmann von Koepenick" tell the true story of the shoemaker Friedrich Wilhelm Voigt, who occupied the town hall in Koepenick during the imperial era disguised as a captain with faithful soldiers, arrested the mayor and robbed the town treasury.
Teddy Herz - Captain of the Hearts
Today Teddy Herz, as "Captain of the Hearts" captures the hearts of an enthusiastic and continually growing audience with contemporary produced German Schlager in the style of the 50s and 60s and authentically continues the tradition of this time.
His current single "Rock'n'Roll Fieber" is currently in several charts, the new single "Der Hauptmann von Koepenick" is considered to be the carnival hit of the 2019/2020 season and the release of the first album is planned for the beginning of 2020.
Live premiere in Berlin Koepenick
On Monday, 11.11. at 11:11 am, the singer and entertainer will personally present his new single "Der Hauptmann von Koepenick" during a live premiere with interviews and autographs. The meeting point is at the Town Hall Koepenick at 10:30 am... and everyone is warmly welcome!

Press Contact:
REUTHER-ENTERTAINMENTS
Press and Public Relations
Buchenweg 13
96450 Coburg
Germany
Fon +49-9561-7059370
Fax +49-9561-97626109
eMail: press @ reuthers.com