The Captain of the Heart:
Teddy Herz in Koepenick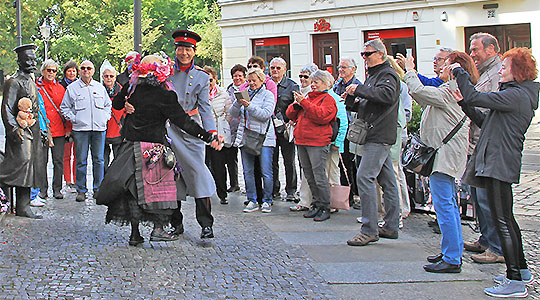 Press Release / Coburg, 4 October 2019
Recently, photo and video recordings with the German pop singer and entertainer Teddy Herz took place in the Berlin district of Koepenick for the new recording of the Drafi Deutscher hit "Der Hauptmann von Koepenick." It was written in the '60s by Christian Bruhn, who made German music history with his catchy tune "Marmor, Stein und Eisen bricht."
During the shooting Teddy Herz lived up to his name as "Captain of the Hearts" in his unique uniform. At the historical locations in front of the town hall and the castle in Koepenick as well as on the banks of the river Spree, there were always encounters with people passing by and groups of visitors who sang along enthusiastically clapped and danced together. The great atmosphere was contagious and at times more like a live performance than a photo and video session.
The new Teddy Herz single "Der Hauptmann von Koepenick" will be released this year on the music label Reuthers Records precisely on time for the beginning of the carnival on 11.11. at 11:11 a.m. and will be presented by Teddy Herz personally during a live premiere at the town hall of Koepenick with interviews and autographs.
Monday, November 11th, 2019 should, therefore, be marked in the calendar and everyone should watch the spectacle live at 11:11 a.m. at the Koepenick town hall - everyone is warmly welcomed!

Press Contact:
REUTHER-ENTERTAINMENTS
Press and Public Relations
Buchenweg 13
96450 Coburg
Germany
Fon +49-9561-7059370
Fax +49-9561-97626109
eMail: press @ reuthers.com