A homage to his audience:
Teddy Herz releases the single "Zum 100. Mal"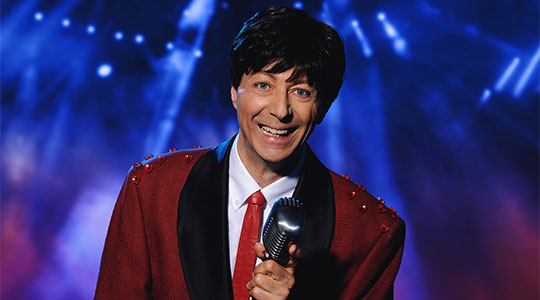 Press Release / Coburg, 4 May 2020
On 8 May 2020 singer and entertainer Teddy Herz will release another single from his current album "Welche Farbe hat die Welt" (what color is the world).
The album itself contains thirteen very special German Schlager from or in the style of the 50s and 60s and is described by Teddy Herz as his very personal album.
The current single release is entitled "Zum 100. Mal" (for the 100th time). This song has accompanied Teddy Herz for many years - it is always the first song with which the singer and entertainer enters the stage at his "Deutsche Schlager-Revue".
"For me, "Zum 100. Mal" has always and again meant a homage to my audience, and so it was clear that this song would appear on an album at some point and then as a single," Teddy Herz said in an interview.
Teddy Herz loves and lives the 50s and 60s authentically and like no other and the song "Zum 100. Mal" fits perfectly to all his other hits in the style of this wonderful time. The successful author Michael Zai wrote lyrics and music again and produced the hit song in his own MB Songs Studio for the music label Reuthers Records, where Teddy Herz has released all his songs so far.
The single "Zum 100. Mal" will be available from May 8th, 2020 in Online Shops, Download Stores and Streaming Services - the album "Welche Farbe hat die Welt" already since February 7th, 2020 and of course as CD in stores.
Further Information > teddyherz.de
> Please request your media package!
Press Contact:
REUTHER-ENTERTAINMENTS
Press and Public Relations
Buchenweg 13
96450 Coburg
Germany
Fon +49-9561-7059370
Fax +49-9561-97626109
eMail: press @ reuthers.com