Teddy Herz presents funny summer song:
"The Ice Cream Man" is coming!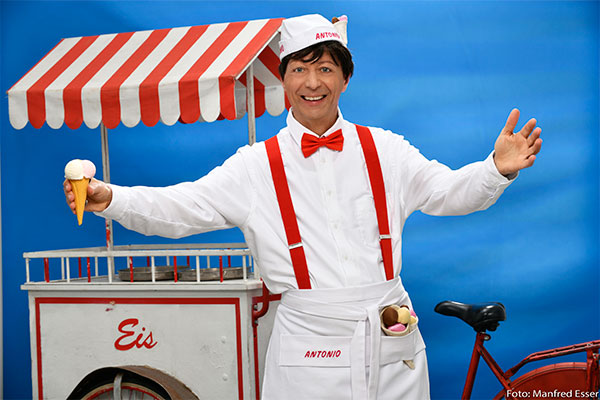 Press Release / Coburg, 23 June 2020
With the funny summer song "Der Eismann" (The Ice Cream Man) singer and entertainer Teddy Herz rings in this year's ice cream season and in July / August 2020 he will visit spontaneously selected ice cream bars / cafes in Germany, Austria and Switzerland under the motto "Der Eismann" kommt!
The single version of "Der Eismann" from the current album "Welche Farbe hat die Welt" (What color is the world) also features the typical bell sounds of an ice cream man and even surpasses the album version.
Also with this song, singer and entertainer Teddy Herz proves once more that he visibly enjoys it and above all it suits him to slip into different roles and characters and embody them musically.
One remembers his new release of the 60s Drafi Deutscher hit "Der Hauptmann von Koepenick", which Teddy Herz presented in a stylish way at 11:11am on 11 November 2019, just in time for the beginning of carnival in the traditional Zilles Stubentheater in Berlin-Koepenick and inspired the audience and industry professionals alike.
By the way, "Der Eismann" was produced in the Woerle Musicland Studio by Georg and Walter Woerle, who, along with Michael Zai, are part of Teddy Herz's team of producers and authors. Once again, the photographic realisation was in the hands of star photographer Manfred Esser.
"Der Eismann" will be released like the previous four singles and the album on the music label Reuthers Records and will be available from 3 July 2020 at Download Stores and Streaming Services - the current album "Welche Farbe hat die Welt" of course also as CD in stores and online shops.

Further Information > teddyherz.de
> Please request your media package!
Press Contact:
REUTHER-ENTERTAINMENTS
Press and Public Relations
Buchenweg 13
96450 Coburg
Germany
Fon +49-9561-7059370
Fax +49-9561-97626109
eMail: press @ reuthers.com

"Der Eismann" kommt!
11.07.2020 - Karlsruhe
14.07.2020 - Hof + Leipzig
15.07.2020 - Dresden
16.07.2020 - Berlin
25.07.2020 - Stuttgart + Würzburg
26.07.2020 - München
06.08.2020 - Erfurt + Eisenach
11.08.2020 - Passau
12.08.2020 - Wien (A)
13.08.2020 - Villach (A) + Salzburg (A)
14.08.2020 - Innsbruck (A) + St. Gallen (CH)
15.08.2020 - Zürich (CH)
16.08.2020 - Basel (CH) + Freiburg
20.08.2020 - Bad Lippspringe + Bielefeld + Hannover
21.08.2020 - Hamburg
22.08.2020 - Rostock + Stralsund
23.08.2020 - Magdeburg
25.08.2020 - Düsseldorf + Köln
26.08.2020 - Frankfurt + Hanau
Interview dates etc. on > request