Teddy Herz opens the scooter season:
With the cult song "Motorroller fahr'n" into spring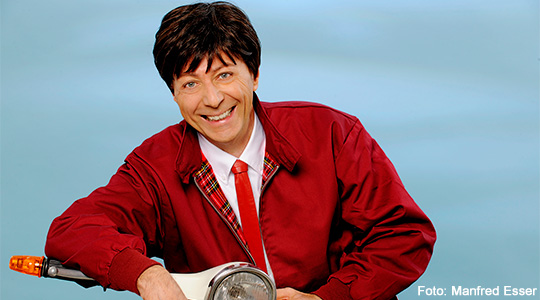 Press Release / Coburg, 3 March 2020
On Friday, 13 March 2020 - a lucky day - the new single "Motorroller fahr'n" (motor scooter riding) by German Schlager Singer and Entertainer Teddy Herz will be released on the music label Reuthers Records.
After "Rock'n'Roll Fieber", and "Der Hauptmann von Koepenick", "Motorroller fahr'n" is the third single from his current and very personal album "Welche Farbe hat die Welt" (what color is the world). With the stylish cult song, Teddy Herz opens this year's scooter season - true to the song motto "Everything we love has been there before".
"Motorroller fahr'n" is Teddy Herz's personal style. After all, the singer and entertainer authentically embodies the attitude to life of the 50s and 60s with his German hits. Thanks to his music we can experience the wonderful time of the German economic miracle in a new way.
Author and producer Michael Zai is responsible for the composition and lyrics of "Motorroller fahr'n". Teddy Herz has a longstanding collaboration and friendship with him and most of the Teddy Herz hits originate from his pen. The title is published by Michael Holm's Autobahn Musik in cooperation with Reuthers Music Publishing.
Whether Vespa, La Dolce Vita, Jukebox, Elvis Presley or Rock'n'Roll - with this lively German Schlager to sing and dance along with, time is simply turned back and you find everything that distinguishes the 50s and 60s. However, concerning the cheeky lyrics "And Conny was never in bed with Peter!?" - that will probably always remain a secret...

Press Contact:
REUTHER-ENTERTAINMENTS
Press and Public Relations
Buchenweg 13
96450 Coburg
Germany
Fon +49-9561-7059370
Fax +49-9561-97626109
eMail: press @ reuthers.com