Special Shows on "Radio Schlager Musikanten":
Now Christmas can come!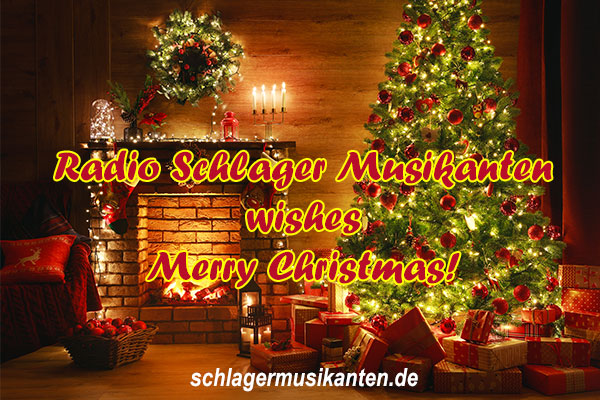 Press Release / Coburg, 15. Dezember 2020
For the Advent and Christmas season, the station "Radio Schlager Musikanten", which specializes in German Schlager, has two special shows in this year's Christmas program.
Since the 1. Advent the show "Weihnachten mit Teddy Herz und seinen Gästen" (Christmas with Teddy Herz and his guests) is running and exceeded right from the beginning all expectations by far, so that there will be an additional TV variant for the coming Christmas time 2021. In the show, the German Schlager singer and entertainer Teddy Herz presents popular Christmas classics, songs from his current album "Weihnachten mit Teddy Herz" (Christmas with Teddy Herz), music requests, and greetings from listeners and pop stars. Christmas stories about the "feast of love" round off the varied and entertaining program. The next shows will run on the 4th of Advent and on Christmas Eve at 7 p.m. each night.
The radio program for Christmas Eve and the Christmas holidays starts on December 24, 2020, already at 10 a.m. with the 2-hour special show "Merry Christmas!". Popular Schlager stars greet the listeners of "Radio Schlager Musikanten" and present their latest Christmas songs. This show is then repeated at 10 a.m. on Christmas Day and Boxing Day.
German Schlager hits - around the clock has been the motto of "Radio Schlager Musikanten" since March 2020. The 24/7 program of the web radio includes current German hits and popular evergreens and, as a highlight for all fans of German hits, the weekly "Schlager Hitparade" with the listener Top 10, the new introductions, the artist of the week and the oldie of the week.
"Radio Schlager Musikanten" is part of the portfolio of the German Schlager portal "Schlager Musikanten" which, in addition to the radio station, also takes care of the Reuthers booking portal for German Schlager singers, singers and groups, the event series "Schlager Musikanten unterwegs" as well as for sampler albums on the music label Reuthers Records.
Further Information > Radio Schlager Musikanten
Press Contact:
REUTHER-ENTERTAINMENTS
Press and Public Relations
Buchenweg 13
96450 Coburg
Germany
Fon +49-9561-7059370
Fax +49-9561-97626109
eMail: press @ reuthers.com