Radio Schlager Musikanten presents:
"Christmas with Teddy Herz and his guests"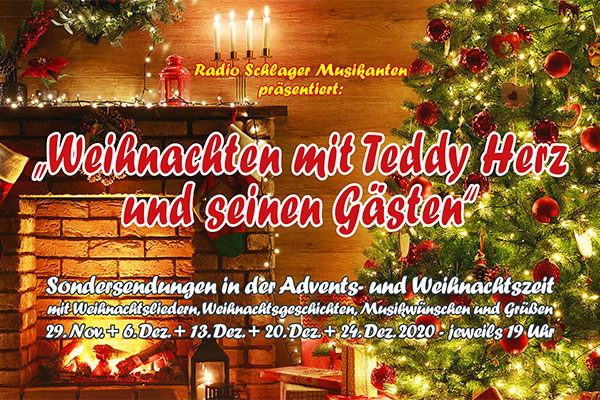 Press Release / Coburg, 24 November 2020
German Schlager around the clock is the motto of Radio Schlager Musikanten since March 2020. The webradio's 24/7 program features current German hits and popular evergreens and, as a highlight for all fans of German Schlager, the weekly "Schlager Hit Parade" with the listeners' Top 10 and new releases.
In the coming Advent and Christmas season there will be a special program of a special kind on all four Advent Sundays and on Christmas Eve: "Christmas with Teddy Herz and his guests".
The special program will be broadcast from 7pm to 8pm and the German Schlager singer and entertainer Teddy Herz will present classical and modern Christmas songs among others also from his current Christmas album "Weihnachten mit Teddy Herz" (Christmas with Teddy Herz), music requests, Christmas stories and greetings from Schlager stars and listeners.
All listeners are called upon to actively participate in the broadcast and to send their music wishes and greetings to their loved ones. Gladly these are then played and transmitted in the transmissions.
Radio Schlager Musikanten belongs to the portfolio of the German Schlager Portal "Schlager Musikanten" which besides the radio station also takes care of the Reuthers Booking Portal for German Schlager Singers, Singers and Groups, the event series "Schlager Musikanten unterwegs" as well as sampler albums on the Schlager label Reuthers Records.
Further Information > Radio Schlager Musikanten
Press Contact:
REUTHER-ENTERTAINMENTS
Press and Public Relations
Buchenweg 13
96450 Coburg
Germany
Fon +49-9561-7059370
Fax +49-9561-97626109
eMail: press @ reuthers.com