Premium Motorcycle Tours at the INTERMOT 2018 in Cologne: The Reuthers Team surprises with great highlights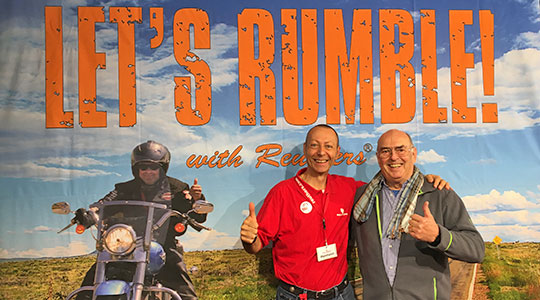 Press Release / Coburg, 7 August 2018
It's going to get hot. The world of the two-wheeler industry is rolling in on its wheels in Cologne for INTERMOT 2018. You can already feel pure excitement in the air. There is a smell of innovation and a lot of fun. The world's leading motorcycle fair in Cologne opens its doors from October 3 to 7, 2018 (for trade visitors already on October 2, 2018). More than 220,000 visitors are expected at this mega-event. And the offer is absolutely awesome. Among other things, will be presented: Motorcycles, scooters, E-Bikes and... Motorcycle Tours: Truly the high-profile company REUTHER-ENTERTAINMENTS with the Reuthers Motorcycle Tours Division is also involved.
Reuthers Motorcycle Tours focuses on modern agility in Hall 9, Booth B8
Reuthers Motorcycle Tours, the internationally renowned tour operator, is once again giving this year's event the honor of delighting travel and motorcycle fans with fantastic news, competitions, discounts and charming offers. Lovers of hot bikes and dream trips are also welcome to take a first look at the new Reuthers Motorcycle Tours eCatalog 2019/2020.
Well hello there! But Reuthers goes one step further and with the refreshing Multi Media Show "LET'S RUMBLE! with Reuthers" daily at 2 pm he conjures up gripping pictures, photos, videos and stories of worldwide motorcycle dream trips before the curious eyes and into the wide-open ears of his spectators. Hermann Reuther is already looking forward to bringing dream destinations such as New Zealand, USA, Canada, Australia, South Africa and Europe within reach - the highlights for 2019 "Berlin-Moscow" and the ultimate first South America tour "Patagonia" certainly increases the anticipation for the next vacation.
More happenings to enjoy:
* Meet and greet with Hermann Reuther and the Reuthers Team.
* If you like Bingo, you should join the fun Reuthers Biker Bingo. There are vouchers in the value of 100 to 1,000 Euros waiting to be won. Attention: Each player secures a win!
* Fans of Reuthers should take notice: Reuthers is sponsoring the admission fee for visitors to the INTERMOT 2018, who visit the Reuthers Stand and register with Reuthers in advance.
* An extra treat: Visitors who book a Reuthers trip at the stand can look forward to a 10 percent trade fair discount.
The Reuthers Team of experts can be found in Hall 9 - right next to the Harley-Davidson stand.

Press Contact:
REUTHER-ENTERTAINMENTS
Press and Public Relations
Buchenweg 13
96450 Coburg
Germany
Fon +49-9561-7059-370
Fax +49-9561-7059-379
eMail: press @ reuthers.com