"Mutti ist die Beste": Teddy Herz presents special show for Mother's Day on Radio Schlager Musikanten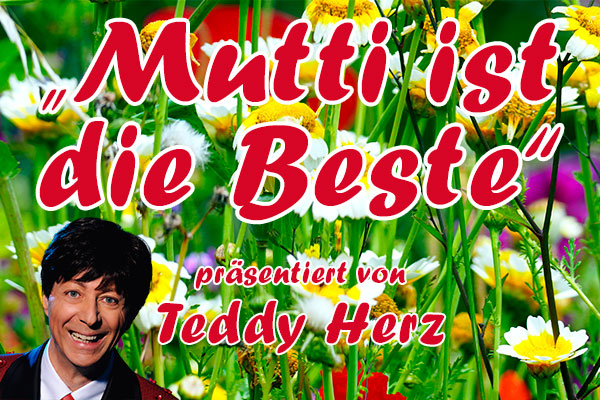 Press Release / Coburg, 3 May 2021
On Mother's Day, Sunday 9 May 2021 the German Schlager singer and entertainer Teddy Herz presents the special show "Mutti ist die Beste" on Radio Schlager Musikanten from 9-11 am. In the program are German Schlager and Mother's Day greetings from popular Schlager stars. Of course, Teddy Herz also presents his brand new single, the Peter Kraus 50's classic "Wenn Teenager träumen" (A Teenager's Romance) - from the current album "Welche Farbe hat die Welt" (What color is the World).
Listener wishes and greetings
In addition to a form on the schlagermusikanten.de website, a listener phone is also available for listeners of the German Schlager station at +49-9561-9769661, where listeners can leave their music wishes and greetings as voice messages, which will then be played during the show.
German Schlager around the clock
Since March 2020, the motto of Radio Schlager Musikanten is: German Schlager around the clock. In the 24/7 program of the web radio, there are a variety of broadcasts for every taste with German Schlager from the last 100 years. Special mention should be made of the "Schlager Hitparade" program every Sunday at 3 p.m. with the listener Top 10 and new introductions of the week.
Radio Schlager Musikanten is part of the portfolio of the German Schlager portal "Schlager Musikanten" which, beside a radio station, also takes care of a booking portal for German Schlager artists and the tour program "Schlager Musikanten unterwegs" as well as sampler albums on the music label Reuthers Records.
New is the TV music show "Schlager Musikanten unterwegs", in which Teddy Herz presents popular regions in Germany, Austria and Switzerland as well as German Schlager stars. By the way, the first stop is Eisenach in Thuringia...
Press Contact:
REUTHER-ENTERTAINMENTS
Press and Public Relations
Buchenweg 13
96450 Coburg
Germany
Fon +49-9561-7059370
Fax +49-9561-97626109
eMail: press @ reuthers.com