Motorcycle fans are counting down to the Intermot 2016:
Reuthers Harley-Davidson presents in Hall 9, Booth B8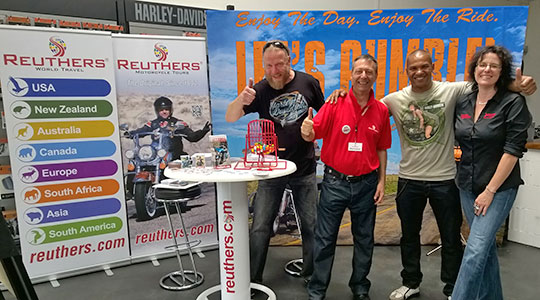 Press Release / Coburg, 19 August 2016
200,000 professional visitors, motorcycle fans and media representatives will journey between October 5 -9 to Cologne. At that time the doors to Intermot 2016 open and every motorcycle fans heart will beat faster.
One of the 1.000 exhibitors will be waiting with a very special offer. The Reuthers Team is presenting the Reuthers World of Enjoyment package that contains these highlights:
* The possibility for a Meet and Greet with Hermann Reuther and his team.
* The presentation of the new Reuthers Motorcycle Tours eCatalog 2017/2018.
* The Multi Media Show "Around the World on a Harley" daily at 11 am and 3 pm. With pictures, videos and stories of worldwide Harley-Davidson Tours Hermann Reuther inspires his audience on every Road Show. At the Intermot 2016 he will present every day a different dream destination. In addition to the classics - the Route 66, Florida and the Wild West Tour - also dream destinations in South Africa, Europe and New Zealand are presented.
* The presentation of the brand new Special Event Tour Berlin-Moscow in June 2017, which was specially designed for the 30 year anniversary of REUTHER-ENTERTAINMENTS.
* The Reuthers Biker Bingo with travel vouchers from 100 to 1000 Euros and there is a prize for every player.
* Ten percent fair discount for all who book a Reuthers Tour at the Intermot 2016.
Reuthers will take over the Intermot 2016 admission fees for his fans
Reuthers also welcomes guests with a very special offer welcome: All those who take a look beforehand at the Reuthers booth - which is directly across the Harley-Davidson booth - are rewarded twice, because: Those who directly sign up for a visit to the Intermot 2016 will receive a voucher for free admission to the Intermot 2016.

Press Contact:
REUTHER-ENTERTAINMENTS
Press and Public Relations
Buchenweg 13
96450 Coburg
Germany
Fon +49-9561-7059-370
Fax +49-9561-7059-379
eMail: press @ reuthers.com