For the 115th Anniversary of Harley-Davidson head to Prague: Reuthers presents motorcycle round trips with a visit to the anniversary celebration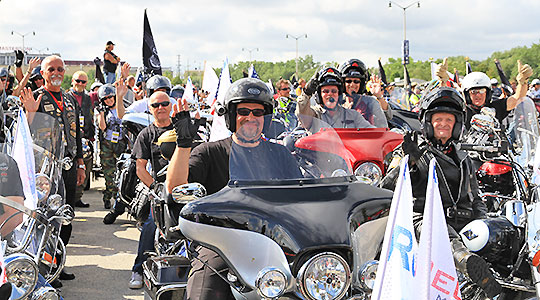 Press Release / Coburg, 25 July 2017
The cult brand Harley-Davidson will celebrate a proud 115 years in 2018. For motorcycle fans, worldwide a reason to celebrate. From July 5-8, 2018 the European anniversary celebrations of the legendary motorcycle brand will take place in Prague. A colorful supporting program with exhibitions, music and a biker parade will attract more than 100,000 visitors to Prague to the four-day event. Reuthers presents two Special Event Tours for the anniversary celebration with an included round trip.
Tailor-made motorcycle round trips for Harley-Davidson fans
When it comes to motorcycle tours, you can rely on Reuthers. Two carefully arranged travel packages allow the fans of Harley-Davidson to celebrate the 115th anniversary of the cult brand with a round trip and a visit to the anniversary celebrations in Prague. The Event Package 1 will take bikers from July 1-8, 2018 from Nuremberg to Coburg and Dresden to Prague in order to celebrate the 115th birthday of the motorcycle brand. If that is not enough, simply choose the Event Package 2, which is followed by a trip through the Alps after the party. The complete route will lead bikers from July 1-14, 2018, as in the Event Package 1, from Nuremberg to Coburg and Dresden to Prague. Following the anniversary celebrations, the participants will travel through Nuremberg, Munich and Garmisch-Partenkirchen to Kempten and Rothenburg. Finally, the route leads the bikers back to Nuremberg, the starting point of the journey.
Harley-Davidson Party in Prague
For many bikers, it is the most important part. The anniversary celebrations of Harley-Davidson are legendary and so it is hardly surprising that over 100,000 people are expected to party in Prague. As a motorcycle fan Hermann Reuther knows exactly what turns Harley-Davidson fans on and manages to make the dreams of his clients come true with these two travel packages.

Press Contact:
REUTHER-ENTERTAINMENTS
Press and Public Relations
Buchenweg 13
96450 Coburg
Germany
Fon +49-9561-7059-370
Fax +49-9561-7059-379
eMail: press @ reuthers.com