The 115th Anniversary of Harley-Davidson is approaching:
Reuthers presents four Special Event Tours for motorcycle fans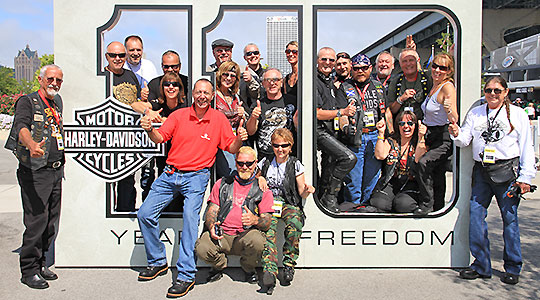 Press Release / Coburg, 15 February 2017
Harley Fans expect that in August/September 2018 the 115th anniversary celebration of the cult brand Harley-Davidson will take place in Milwaukee. Bikers from all over the world will gather in the city near Lake Michigan to participate in the festivities and events in honor of Harley-Davidson.
Reason enough for Reuthers to present with four special event tours, a supporting program for every Harley-Davidson enthusiast. Every motorcycle fan dreams of driving along the famous Route 66 or discovering the USA on the historic Pony Express Trail. Reuthers makes it possible > four specially designed event packages cover different routes and time frames, so that every motorcycle fan can get their money's worth and of course experience the Harley-Davidson anniversary celebrations in Milwaukee.
Either on your own or with a guide
The participants can choose between a Semi Guided Tour and a Guided Tour. With the first option, the biker is on his own but enjoys the highest comfort through the provided rental bike, the fixed route and the hotels booked in advance. The Guided Tour is on the other hand the non-plus ultra-package. The bikers ride as a group with a guide. This package also includes fuel costs, entrance fees, parking fees and much more.
Dream Trips for Bikers
Hermann Reuther is once again able to meet the needs of his clients and makes dreams come true with these thoroughly combined travel packages. True to the motto: "Anniversaries must be celebrated!" And for bikers, this is especially true when it comes to Harley-Davidson.

Press Contact:
REUTHER-ENTERTAINMENTS
Press and Public Relations
Buchenweg 13
96450 Coburg
Germany
Fon +49-9561-7059-370
Fax +49-9561-7059-379
eMail: press @ reuthers.com