Reuthers provides "Entertainment with a Concept":
Business Events on tour and on stage!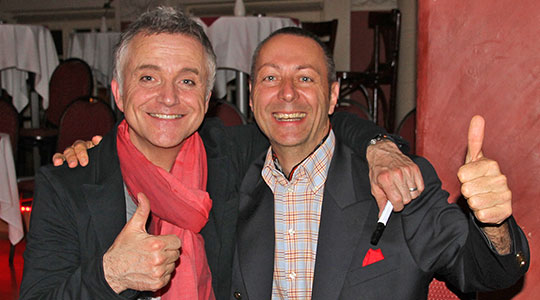 Press Release / Coburg, February 23, 2016
Two hearts beat in his chest - one beats and burns for the beauty of foreign countries, which he presents within the scope of breathtaking Harley-Davidson motorcycle tours and the second heart beats for the entertainment sector. Two entirely different directions? Hardly, because there is a crucial parallel: Hermann Reuther, President of REUTHER-ENTERTAINMENTS invites on his tours and on stage his clients to experience the "Reuthers World Of Enjoyment".
Hermann Reuther created his own slogan years ago for the entertainment sector: "Entertainment with a Concept" promises success - for the client and the company. Each request, each event is a personal challenge and it is necessary to perform with meticulousness, perfectionism and a wealth of experience to turn it into an individual event. Reuthers has events for big and small in their program. Kinderzeit mit Adelheid is the entertainment concept for the next generation and is becoming Germany's number 1 childrens party. REUTHER-ENTERTAINMENTS is also for business events the best partner.
Business Events made by Reuthers
The name says it all at Reuthers, because it primarily implies that Hermann Reuther's event team with their wealth of experience, will make any business event an unforgettable event. It all depends on the overall concept. Depending on the target audience and intention of the business event everything is discussed beforehand with the client, whether it is the framework program for a seminar or training, a motivation event is pending, which is in need of an emphatic presentation, or the aspiration is to have a well-known artist at the business event.
Every client requirement is attractive for President Hermann Reuther, because he himself seems to be a true quick-change artist - just take a look to his company portfolio - and the love of the stage was probably already placed in the cradle. In the late 70s Hermann Reuther was with his punk band "Flight of Time" on stage, rather than studying business economics - and during this time he got to know about the event area firsthand.
Many popular stars belonged to the group of fellow artists who Hermann Reuther met regularly on stage before he made the decision in 1987 to take the plunge into self-employment with his own artist agency. Since that time Hermann Reuther has written history as the President of REUTHER-ENTERTAINMENTS - and has since then made a name as an organizer of business events.
Reuthers business events are "Entertainment with a Concept"
The approach to each business event is the self-understanding of the relevant client, the objective of the business events and the expected target group. Considering these relevant parameters of a good business event, Reuthers designed "Entertainment with a Concept" - and this is what everyone involved notices. Here, Hermann Reuther and his team operate with a wide range of artists, singers, bands, entertainers, speakers and presenters. The Enjoyment Package made by Reuthers includes the entertainment factor on the stage as well as corresponding event equipment, catering and decoration.
The key words "Entertainment with a Concept" comes to a full circle, because business events can also take place on the roads of this world. Keyword: Incentive Tours. Reuthers has this type of business also in his portfolio - and offers individually designed adventure trips that are an unforgettable event.

Press Contact:
REUTHER-ENTERTAINMENTS
Press and Public Relations
Buchenweg 13
96450 Coburg
Germany
Fon +49-9561-7059-370
Fax +49-9561-7059-379
eMail: press @ reuthers.com