On historical paths:
The Davidson Cottage in Scotland is now visited by Reuthers on every motorcycle tour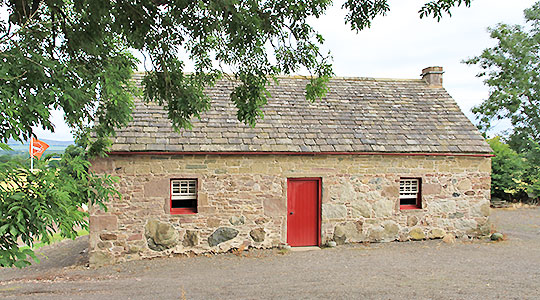 Press Release / Coburg, 21 November 2016
It is an event to experience Scotland in the saddle of a Harley-Davidson, BMW or any other motorcycle. But to visit the legendary Davidson Cottage, is a trip back in time. Reason enough for the Reuthers team to incorporate a visit to the Davidson Cottage in all motorcycle tours through Scotland.
What awaits the visitor? A visit to the time when William C. Davidson lived in Scotland. After his emigration to the USA, he built the first Harley-Davidson workshop in Milwaukee, which today is known as "The Shed". The great father of the first Harley-Davidson workshop witnessed Scotland only in his early childhood. In 1857 he left the poor country at the age of ten years with his parents and his brothers and sisters - and created as an adult a piece of Harley-Davidson cultural history in his new home.
A visit to the Davidson Cottage is a must for every motorcyclist - and at Reuthers a trip to the now famous cottage is an integral part of the motorbike tours through Scotland. The cottage, which is in Aberlemno in County Angus, has been restored in an accurate and loving way > Video Scotland
The ruins from 2008 can now be visited
In 2008 three Harley-Davidson enthusiasts found the old Davidson Cottage. The cabin was only a ruin and was supposed to make way for a construction project. The three Harley-Davidson enthusiasts were able to prevent this. They bought the cottage and restored it and against the wishes of those who had wanted to demolish the cabin regardless of the Davidson history. In July 2012, the cottage was opened - which many Harley-Davidson bikers truly celebrated. Today, a visit to the Davidson Cottage, which is also known as the Netherton Cottage is an integral part of Reuthers Motorcycle Tours through Scotland and joins the ranks of other highlights such as Loch Ness and Co.

Press Contact:
REUTHER-ENTERTAINMENTS
Press and Public Relations
Buchenweg 13
96450 Coburg
Germany
Fon +49-9561-7059-370
Fax +49-9561-7059-379
eMail: press @ reuthers.com