Press Release
Reuthers Harley-Davidson at the INTERMOT 2014 in Cologne:
Hermann Reuther presents worldwide Harley-Davidson Dream Tours
Coburg, September 9, 2014
Hall 9.1, Stand B-8. Here Reuthers will present his Harley-Davidson Authorized Tours. That the event team surrounding Hermann Reuther as the worldwide authorized Harley-Davidson Tour Operator can be found directly across from the official stand of Harley-Davidson, goes without saying.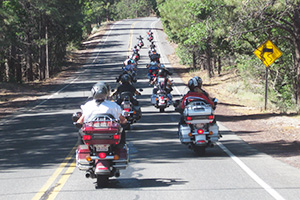 Foto: REUTHER-ENTERTAINMENTS
But where does the close connection between Reuthers and Harley-Davidson come from? "This began with Harley-Davidson asking to help start up the 'Guided Tours Program' " says President Hermann Reuther. But he prefers looking into the future - and it is sometimes characterized by Harley-Davidson. He has a variety of Motorcycle Tours in the planning stage, which of course he himself has designed and tested. Interested parties now have the opportunity to inform themselves at the INTERMOT about the dream destinations.
About the INTERMOT
1964 saw the launch of the first international bicycle and motorcycle exhibition (IFMA) in Cologne. Already in the early days there was an attractive social program for visitors to the fair in Cologne. The fair has established itself as a premier show. New products were introduced here in the vehicle and accessory range. Already in 1976, 200,000 visitors could be counted. The show was known as the "meeting place of the bosses" - transactions were made here.
In 1998 INTERMOT opened its doors - but in Munich. The relocation to the Bavarian capital was only of short duration. Since 2006 the INTERMOT takes place in its current form in Cologne - and deals with all issues relating to the topic of two-wheelers. In 2008 E-Bikes were added. Since then the trade show comes up every two years with an extensive program which offers everything from shows to autograph sessions
Tickets, Surprise gifts and Travel Vouchers.
Registering in advance to visit the INTERMOT is twice as worthwhile: The first 20 who register their visit at the Reuthers stand at > Road Show will receive free tickets to INTERMOT. There are also a surprise gifts at the booth. But there is much more that draw attention to Reuthers .
With Reuthers Biker Bingo travel vouchers worth a total of 150,000 Euros can be won. And whoever wins, can find directly across at the official Harley-Davidson stand the models with which he or she could go on a Dream Tour.

Information:
> INTERMOT
> Reuthers Harley-Davidson Authorized Tours

Press Contact:
REUTHER-ENTERTAINMENTS
Press and Public Relations
Buchenweg 13
96450 Coburg
Germany
Fon +49-9561-7059-370
Fax +49-9561-7059-379
eMail: press @ reuthers.com