Press Release
Reuthers up close at the European Bike Week at the Faaker See:
Hermann Reuther presents the Reuthers Harley-Davidson Authorized Tours in the Harley-Davidson Central area
Coburg, August 12, 2014
"It is a great honor for us to introduce our Reuthers Harley-Davidson Authorized Tours at this year's European Bike Week," says Hermann Reuther, President of REUTHER-ENTERTAINMENTS. From the 2nd to 7th of September he will have a stand in the Harley-Davidson Central area and give out information about his legendary motorcycle tours.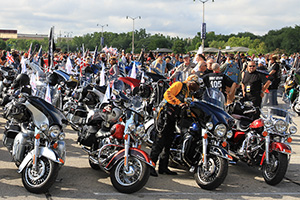 Foto: REUTHER-ENTERTAINMENTS
The cooperation was started years ago by Reuthers and Harley-Davidson. "In 2006 I was invited to Milwaukee by Harley-Davidson and asked to help establish the 'Guided Tours program' "Hermann Reuther remembers. Since then Reuthers is a valued Harley-Davidson Authorized Tour Operator.
About the European Bike Week
Already in late August the biker fans are standing in the starting blocks. This year at the Faaker See in Carinthia (Austria) for the 17th time Europe's largest motorcycle festival - The European Bike Week - is being celebrated. Expected are more than 100,000 visitors who want to experience the fascinating event up close and in every detail.
There are countless reasons to travel to the European Bike Week: In the Harley-Village buyers and sellers meet in the Dealer-, Trader- and Customizer area. In the H-D Central area the product range for 2015 lets every biker's hearts beat faster and also the music and entertainment program is every year unique. Central point in addition is the H.O.G.-Lounge. Here old and new members of the Harley Owners Group meet up.
Sign up and secure a gift
Also to be found at the best location is Hermann Reuther. Visitors to the stand "Reuthers Harley-Davidson Authorized Tours" in the Harley-Davidson Central area are advised to > pre-register. "For each registered visitor we have a surprise gift and in addition for all stand visitors a 10 percent voucher for a Reuthers motorcycle tour waiting", promises Hermann Reuther. He himself was a few years ago at the European Bike Week and is looking forward to the days with a "Harley-Feeling".

Information:
> European Bike Week
> Reuthers Harley-Davidson Authorized Tours

Press Contact:
REUTHER-ENTERTAINMENTS
Press and Public Relations
Buchenweg 13
96450 Coburg
Germany
Fon +49-9561-7059-370
Fax +49-9561-7059-379
eMail: press @ reuthers.com