Press Release
With the Harley-Davidson on the legendary Red Square:
Reuthers plans a motorcycle tour from Berlin to Moscow!
Coburg, August 19, 2013
The chances are good that perhaps even the Russian president, Wladimir Putin, also an enthused Harley-Davidson rider, might accompany the bikers on their last stage. Without question a scenario that evokes goose bumps with real Harley-Davidson fans. "And with the participation of Bill Davidson, great grandson of the company founders, we would even have an American Russian summit meeting of the special kind", says company president Hermann Reuther. Full of anticipation he adds: "The group photo on the Red Square with the Basilius cathedral as a background that would be the fulfillment of my personal dream"!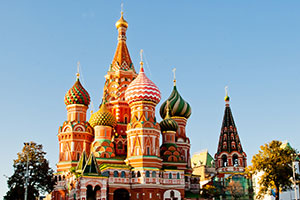 Foto: © marcos81 - Fotolia.com
Here it goes to show that fantastic machines, imposing sceneries and dream trips are for the team of REUTHER-ENTERTAINMENTS more than just business. Each itinerary is driven and tested in the fore field by Hermann Reuther. A man out of the practice for the practice and so the Reuthers Special Event Tour "Berlin - Moscow 2015" is planned right up to the smallest detail:
It starts on the 12th of June, the Russian national holiday, in the German capital Berlin, and in style in front of the historic Brandenburg Gate. From here it will continue on with a city tour of Gdansk as well as further historic sites such as Kaliningrad and Riga to St. Petersburg and then - to arrive just in time for the nature event the midsummer sun in Russia.
As special highlights of the subsequent multi-day stay in Moscow, the parade to the Red Square is planned and a visit to the world famous Bolshoi Theater. Hermann Reuther: "Hopefully a performance of Swan Lake will be on the program during this time".
Back to Berlin, the motorcycle tour heads back over Smolensk, the capital of White Russia Minsk, Warsaw and Poznan. A route that already is causing worldwide excitement for Harley-Davidson enthusiasts from the United States, Canada, Brazil, Saudi Arabia and New Zealand. And also many Swiss, Austrian, Britons, Dutch, French and Germans want to be part of the party.
For real motorcycle fans, such a dream trip riding in the saddle of your own machine is naturally an absolute highlight, so for all Europeans the possibility to participate with their own motorcycle on this Reuthers Tour exists. For the rest of the world the possibility to rent a Harley-Davidson is offered.
And who knows, maybe, at the end of the tour, the saddle of your own Harley, the helmet or also "only" the map will be signed by Bill Davidson or Wladimir Putin personally!?

Information:
> Berlin - Moscow 2015
> reuthers.com
> Pressfotos

Press Contact:
REUTHER-ENTERTAINMENTS
Press and Public Relations
Buchenweg 13
96450 Coburg
Germany
Fon +49-9561-7059-370
Fax +49-9561-7059-379
eMail: press @ reuthers.com