Press Release
Safe on Americas Main Street Route 66:
Reuthers offers a Harley-Davidson safety training as a "prelude" to your dream trip
Coburg, February 21, 2013
"Safety First" is the motto of Reuthers Motorcycle Tours but that is not the only commitment, we are also dedicated to Harley-Davidson dream trips and fascinating destinations and also a lot of fun and amusement can be found on board. Before heading off for 15 days on Americas legendary Main Street Route 66 in July 2013, Reuthers has set up an additional safety training on the 2nd of July for false beginners. Company founder Hermann Reuther from REUTHER-ENTERTAINMENTS explains: "The idea is that the potential participants have the chance to try out the type of motorcycle that they will be riding on their trip a day before the tour through the country of unlimited possibilities begins. Optimal conditions in order to completely enjoy the Mother Road of the USA with all its impressions: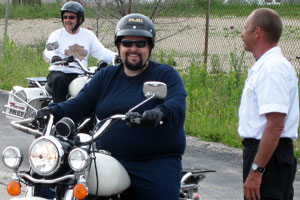 Foto: REUTHER-ENTERTAINMENTS
"Ride Safe and have Fun", advertises Hermann Reuther who is also an enthused Harley-Davidson fan, for this special training, which open spots are limited. Here, in curves and brake practices, he or she can become one with the machine, more or less. Even if the winter break was too long or the last longer tour was several months ago!
Then being acquainted with the Harley-Davidson and its technical subtleties, even those who spent the last couple of years concentrating on their careers instead of biking, can look forward to their trip on the road from July 2 - 16, 2013 and enjoy the adventures to come. Actually the breathtaking impressions and the group dynamics can be double the fun when the machine is optimally controlled, promises the Reuthers team: "And if you know someone who would also enjoy a trip along the Route 66 from Chicago to Los Angeles, then let them or us know about it", Hermann Reuther says with a smile. He also cannot await a reunion with the magical Route 66.

Information:
> Route 66 Dream Tour
> reuthers.com
> Pressfotos

Press Contact:
REUTHER-ENTERTAINMENTS
Press and Public Relations
Buchenweg 13
96450 Coburg
Germany
Fon +49-9561-7059-370
Fax +49-9561-7059-379
eMail: press @ reuthers.com