Press Release
Go on a great tour with your own Harley-Davidson:
Reuthers BYOM makes it possible!
Coburg, December 10, 2012
Staying at home is still the best!? Well those, who like REUTHER-ENTERTAINMENTS who have dedicated themselves to dreams and dream trips and have suffered from wanderlust every now and then, probably see that point of view quite differently. Therefore it will always make a difference for motorcycle enthusiasts, if they are on tour on the America's Mainstreet the legendary Route 66 in the saddle of a rented motorcycle or on their own Harley. "Take part in our motorcycle dream trips with the motorcycle that you love the most - namely your own", says company founder Hermann Reuther outlining the new Reuthers concept.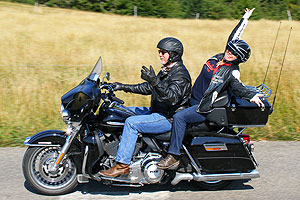 Foto: REUTHER-ENTERTAINMENTS
That's what stands behind the letters "Reuthers BYOM" (Bring Your Own Motorcycle) and covers up to now by request a complete carefree service, where your precious piece is shipped off complete with custom paperwork done. For there are good reasons, that speak for a motorbike tour with your own bike: For many motorcycle friends, the adventure trip with and on their machine is a long anticipated dream!
Others wish and hope for financial savings in comparison to a rental bike. As travel expert Hermann Reuther explains it depends on the travel destination and the travel duration so that, if financial deliberations are in the foreground, exact calculations must be made: "In fact it actually makes little sense to ship a motorcycle halfway around the world or to transport it with an airplane, to go on an 8 day tour. A rental bike on location is then more practical and cheaper.
Also it needs to be considered if the transport is done on your own, that often the troublesome effort for import and export documents must be made as well as the proper insurance for the country you are visiting. A "paper battle", that is easily underestimated - unless, one has strong and dependable partner on your side.
"Reuthers BYOM" - participate with your own motorcycle on dream trips - can be supplemented therefore very simply by a service carrier: The machine, no matter if it is a Harley-Davidson or any other brand will then, thanks to worldwide partners, surely and professionally be transported per ship, truck or airplane, to the trip destination and back again.
Special palettes and secure packaging ensure that the motorcycle travels absolutely safe, promises Hermann Reuther, himself being an enthused Harley-Davidson rider.
The good piece is therefore in the best of hands and also the dream to ride in your own saddle and travel through the United States, South Africa, Australia, New Zealand or Europe, becomes reality through Reuthers!

Information:
> Motorcycle Shipping
> reuthers.com
> Pressfotos

Press Contact:
REUTHER-ENTERTAINMENTS
Press and Public Relations
Buchenweg 13
96450 Coburg
Germany
Fon +49-9561-7059-370
Fax +49-9561-7059-379
eMail: press @ reuthers.com