Press Release
Harley-Davidson Riders with a heart:
Reuthers Children Charity supports Children's Emergency Service in Berlin!
Coburg, October 31, 2012
Films often draw a picture that is far from who and what a Harley-Davidson motorcyclist actually is. In films they often appear as the tough guys, that are also in conflict with the law. In real life however Harley riders prove to be quite frequently, successful businessmen and pleasant people, who carry their heart on the right spot. REUTHER-ENTERTAINMENTS has been able to prove this repeatingly.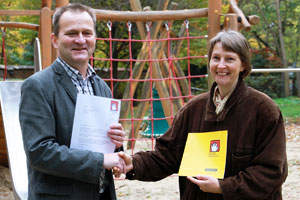 Foto: REUTHER-ENTERTAINMENTS
The company that is celebrating it's 25th anniversary this year, started the Reuthers Children Charity in 1998. It was founded by Adelheid Reuther, the wife of the company president: "The focal point of our social engagement lies in the support of already existing help projects for children", explains the busy couple, that is looking at and taking into consideration the starting of their own foundation and own projects for children in need of help. It is a matter of honor that in the use for the good cause neither office nor management costs occur, so that each grant is forwarded 1:1 – and that exclusively towards acknowledged help projects and with a donation receipt.

The participants on the recent Reuthers Anniversary trip on the Route 66 proved to be very generous. The international group that was together on the legendary Mother Road on the occasion of an anniversary tour to celebrate 25 years of REUTHER-ENTERTAINMENTS, combined the adventure America with the good cause: In the end 100 U.S. Dollars per participant were forwarded to the Reuthers Children Charity, "and also thanks to an increase through REUTHER-ENTERTAINMENTS, a total of 5,000 U.S. Dollars came in total", explains Adelheid Reuther.
This proud sum, on the target date converted into Euro, was then forwarded to the Children's Emergency Service Berlin, where children in crisis situations are helped 24 hours a day and 365 days per year. A more than a meaningful project and Adelheid Reuther convinced herself on the spot of the orderly use of the contribution on Saturday, the 27th of October 2012. At the same time Jürgen Bock the manager of the Children's Emergency Service Berlin and his team took the opportunity to sincerely thank REUTHER-ENTERTAINMENTS and all the participants of the anniversary tour.
Be assured that the activities of the Reuthers Children Charity are not restricted to Berlin and the inland. Help is offered also across borders, this is a matter of honor in a business that offers worldwide dream tours. Of course we feel especially connected to the location of the company headquarters and the world seat of the business, Coburg, so that the Reuthers Children Charity was repeatingly active here in the past, among other things for the Children's Protection Association or the Coburg Tables.

Information:
> Children's Emergency Service Berlin
> Reuthers Children Charity
> reuthers.com
> Pressfotos

Press Contact:
REUTHER-ENTERTAINMENTS
Press and Public Relations
Buchenweg 13
96450 Coburg
Germany
Fon +49-9561-7059-370
Fax +49-9561-7059-379
eMail: press @ reuthers.com