Press Release
With the Harley-Davidson on the "Mother Road":
REUTHER-ENTERTAINMENTS are celebrating their Anniversary Tour with all the Route 66 fans!
Coburg, May 14, 2012
It is the "Mother of all Streets", a legend, a name that melts on your tongue: Route 66 - as soon as you hear the name, even hardened Biker gets moist eyes and starts raving. To be sure America's Main Street has always been a tourist magnet for anybody and everybody. However it is a legend and a dream goal for all Bikers and those who have gasoline in the blood.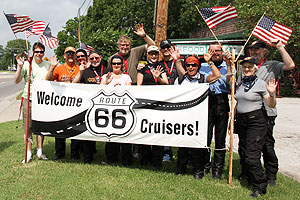 Foto: REUTHER-ENTERTAINMENTS
It goes without doubt that REUTHER ENTERTAINMENTS, the team for dream trips and high-value motorcycle tours appreciates this nostalgia route and offers exciting experiences for all participants. Especially in the anniversary year of the company that will be a quarter century old.
And so the team belonging to company founder Hermann Reuther, who is also an enthused Harley fan, from the 15th until 30th of July a totally special experience - the big Reuthers Anniversary Tour. Magic moments and unforgettable experiences are guaranteed, for already the first hours have it in them. A VIP reception in the Harley-Davidson museum in Milwaukee awaits the participants. True to the motto, "Reuthers opens doors", the tour leads also behind the scenes and opens insights that remain concealed to "normal" visitors eye.
That isn't the only excursion into a fascinating and concealed world. Also a boat tour on the Lake Geneva will prove to be amazing: "Here one will see among other things, the villas of the earlier mafia bosses", states Hermann Reuther raising enthusiasm for the tour.
To put the highlights in words would fill pages. A dinner party in the legendary hotel Del Coronado is planned where Marilyn Monroe once was a guest and "Some like it hot" was filmed. A very dignified atmosphere where we also think of those who do not live on the sunny side of the street. In the frame of the tour a financial donation will flow in favor of the Reuthers Children Charity. Also the participants will receive – appropriately for a giant-birthday-party -, also a small gift, namely a tour video as a souvenir.
More information concerning the exclusive Motorcycle Tours on the legendary Route 66, and the special anniversary tour as well as other worldwide destinations you will find at > Reuthers Motorcycle Tours.
Even though this year's event is already fully booked, Reuthers would not be Reuthers, in making all your personal dreams reality: "Based on the large demand, this special Route 66 tour shall now take place every year in July - in the birthday month of our company", so Hermann Reuther.

Information:

Press Contact:
REUTHER-ENTERTAINMENTS
Press and Public Relations
Buchenweg 13
96450 Coburg
Germany
Fon +49-9561-7059-370
Fax +49-9561-7059-379
eMail: press @ reuthers.com