Press Release
Harley-Davidson dream tours without ifs and buts:
Reuthers Motorcycle Tours scores with the latest Harley-Davidson models
Coburg, February 1, 2012
Our vacation is the most precious time of the year. These are days when we want to leave the world behind and just relax. This is a period in which we want to spend time with friends and family or finding to ourselves all alone with just the wind in our hair. So to say, a time to recharge your batteries and to make your dreams come true. And here your vacation starts right from the beginning true to the motto "Reuthers fulfills dreams". Exactly on the dream bike that you ordered.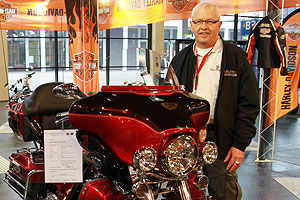 Foto: REUTHER-ENTERTAINMENTS
After all, the company founder Hermann Reuther himself is an avid Harley-Davidson fan and knows that no bike equals another bike: Reuther confirms the motto of his company REUTHER-ENTERTAINMENTS: "At Reuthers each participant gets his desired model, which he booked before the start of his journey". Motorcycles have to fit accordingly to the height of the driver. In addition to the feeling of freedom and adventure, health and well-being should have top priority: "Especially if you have a passenger on the bike with you, the appropriate model with the right seats is more important than ever", knows Hermann Reuther.
Many people also use their holidays for a thorough test drive. A look at the statistics of Harley-Davidson and Reuthers shows that many riders use their holiday to test a particular model. Here it pays to take a motorcycle tour with Reuthers, the top current models are always available: "At Reuthers you can be certain to drive the latest Harley-Davidson models, so if you take part in a 2012 Reuthers motorcycle tour, you will get to ride a 2012 model, and if you rent a motorcycle in 2013 or take a trip with us, you will be able to choose from the 2013 models ", Reuther promises.
This is possible because of the status of a worldwide Authorized Harley-Davidson Tour Operator and thus having access to over 280 Authorized Harley-Davidson Rental Stations in all countries. Of course all machines are very well maintained and serviced according to strict Harley-Davidson guidelines and from the beginning the best possible insurance is included in the service.
And so it is hardly surprising that when one is comparing tours, service and rental prices, sooner or later they will end up at Reuthers: to rent a dream, is one thing... at Reuthers dreams are fulfilled!

Information:
> Reuthers Motorcycle Tours
> reuthers.com
> Pressfotos

Press Contact:
REUTHER-ENTERTAINMENTS
Press and Public Relations
Buchenweg 13
96450 Coburg
Germany
Fon +49-9561-7059-370
Fax +49-9561-7059-379
eMail: press @ reuthers.com