Press Release
KeaRider® - Motorcycle Tours for budget-conscious individualists
Fabulous bike rides all to your own taste
Coburg, August 2, 2011
Be a KeaRider and enjoy all the individual motorcycle tours in New Zealand and the United States, which were prepared by REUTHER- ENTERTAINMENTS, one of the most experienced motorcycle tours operators for some of the most scenic routes in these countries. But instead of being a member in a group and following a tour guide, a KeaRider can individually plan his or her route and of course receive a detailed KeaRider tour book. This is an offer where the eye is on the savings effect which this tour offers. The price-performance ratio is quite attractive.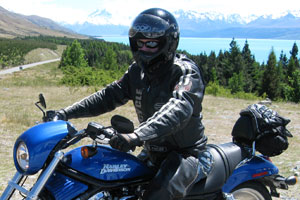 Foto: REUTHER-ENTERTAINMENTS
Being a KeaRider means arriving on your chosen date, choosing your own motorcycle, getting on it and start driving. The bookings on the route are organized by the travel experts at KeaRider ( https://kearider.com ). Instead of staying in five star hotels, the KeaRiders stay at simpler accommodations. Also, the fact that KeaRiders carry their own luggage is a significant additional savings factor.
The tour operator REUTHER-ENTERTAINMENTS ( http://reuthers.com ) started the KeaRider program in New Zealand. It was named after the lively New Zealand Kea Parrot with his love for rubber. A KeaRider should therefore try to avoid this bird in order not to risk a flat tire. In addition to various tours on the two scenic islands in the Pacific, KeaRider motorcycle tours are meanwhile offered in the USA: here you will find the "Best of West" and the "National Park" tours as well as the absolute classic, a motorcycle tour on the Route 66. Especially the ride on the old U.S. highway is a rare motorcycle tour experience and this at an absolutely fair price.
Maybe you would like more comfort? Then we can offer the first-class travel Reuthers Guided Tours, Semi-Guided Tours and the Navi Guided Tours. Just take a second look on reuthers.com.

Information:

Press Contact:
REUTHER-ENTERTAINMENTS
Press and Public Relations
Buchenweg 13
96450 Coburg
Germany
Fon +49-9561-7059-370
Fax +49-9561-7059-379
eMail: press @ reuthers.com