Press Release
Reuthers has a heart for returning motorcycle riders
Back into the saddle
Coburg, March 31, 2011
The second half of life can offer a new quality. This is especially true for the generation of the "Babyboomers", people who grew up in the 1950's. Many of them owned a little Vespa or other small vehicles in their younger days. But now the days of starting a family and child rearing are over. The self-founded company is doing well and the personal fitness is still excellent. Therefore a motorcycle should reflect a certain lifestyle. The children are old enough themselves for motorcycling and mom or dad want to show them that they are also still in good shape.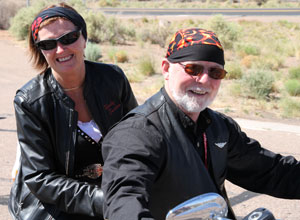 Foto: REUTHER-ENTERTAINMENTS
The "Refresher Program" from REUTHER-ENTERTAINMENTS - an Authorized Harley-Davidson Tours Operator - addresses exactly this group of clients. One-day safety training is offered to participants in the country of destination. Its big advantage consists of the fact that the driver will be training on the motorcycle he or she will be using on the tour program. This gives the driver plenty of time to become secure with "his or her" personal Harley by practicing for instance curb driving or braking. The motto of the Reuthers Motorcycling Division is cruising instead of racing! It's all about enjoying the landscape and based on the slogan: The journey is the destination.
REUTHER-ENTERTAINMENTS is well known for their high level choice of tours and sights as well as the mixture of participants. Especially successful businessmen or -women trust the reliability of the offers and appreciate stylish motorcycle travelling. A good example is the planned Reuthers Golf Trophy 2011 in South Africa. The way back into the motorcycle saddle with Reuthers is for many a wonderful trip into the world of dreams.

Information:
> reuthers.com
> facebook.com/reuthers
> Pressfotos

Press Contact:
REUTHER-ENTERTAINMENTS
Press and Public Relations
Buchenweg 13
96450 Coburg
Germany
Fon +49-9561-7059-370
Fax +49-9561-7059-379
eMail: press @ reuthers.com