Press Release
Reuthers Roadshow at dealer re-opening in Augsburg
Tales from a Harley Storyteller
Coburg, March 28, 2011
"Westpoint" - The Harley-Davidson base in the city of Augsburg, is celebrating after moving to Sheridan Park, on Saturday April 9th the re-opening of its showroom with activities from 9 a.m. to 6 p.m. Hermann Reuther, founder and president of REUTHER-ENTERTAINMENTS is looking forward to present his Roadshow on this special occasion. And therefore at 12 a.m. and 2 p.m. it is time for a genuine Harley storyteller.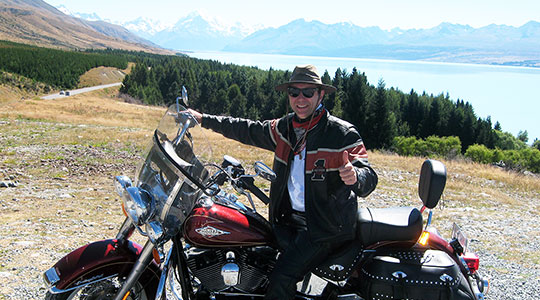 Foto: REUTHER-ENTERTAINMENTS
Describing the special advantages of riding an original Harley-Davidson motorcycle is easy for travel entrepreneur Hermann Reuther. After all, he offers guided and organized solo tours on this American-made cult vehicle on five continents. His multimedia show consists of breathtaking photographs and fascinating video sequences. It is accompanied by tales from Hermann Reuther and his longtime experiences as a Harley-Davidson enthusiast.
At 10:30 a.m. the new showroom will be opened by owner Michael Scholz and Augsburg mayor Dr. Kurt Gribl. After that, singer, actor and confessing Harley-Davidson fan Wolfgang Fierek will sign autographs for his fans. In addition he will be the presenter of the daytime program. Another highlight will be the performance of motorcycle stuntman Rainer Schwarz.
Hermann Reuther in person will be available at an information stand in order to give information to people who are interested in his Harley-Davidson motorcycle tours. The quality of his tours was recently honored by the manufacturer. He was appointed as an Authorized Harley-Davidson Motorcycle Tours Operator. One special crowd pleaser on this Saturday will be the sweepstakes where you can win a Harley-Davidson motorcycle donated by the Augsburg "Westpoint" dealer. In addition, at the Reuthers Roadshow there will be the chance to win three attractive prizes.
Customers of Augsburgs "Westpoint" Harley-Davidson dealer can receive a discount code. And by registrating for a Reuthers motorcycle tour they can receive a rebate on the tour costs. Before stopping in Augsburg, Reuthers Roadshow was performed in South Africa and New Zealand, next stations will be the USA and Canada.

Information:
> reuthers.com
> facebook.com/reuthers
> Pressfotos

Press Contact:
REUTHER-ENTERTAINMENTS
Press and Public Relations
Buchenweg 13
96450 Coburg
Germany
Fon +49-9561-7059-370
Fax +49-9561-7059-379
eMail: press @ reuthers.com