Press Release
Reuthers Navi Guided ®: Self-driving motorcycle tours.
Preprogrammed riding fun!
Coburg, February 21, 2011
With their new tour segment Navi Guided ® REUTHER-ENTERTAINMENTS wants to meet the more individual needs of their clients who choose their own travel dates and want to enjoy a special kind of motorcycle tour.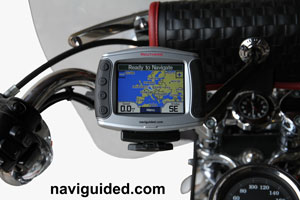 Foto: REUTHER-ENTERTAINMENTS

The travel and event specialist REUTHER-ENTERTAINMENTS has received worldwide recognition with their organized motorcycle traveling. A lot can be owed to the certified and highly motivated tour guides on the group tours. Sticking to the company motto they use their knowledge and experiences to make the travelers dreams come true. The Reuthers Motorcycle Tours division is specialised in the motorcyclists dream bikes Harley Davidson.
This new innovated travel offer is made possible by using a GPS-System and a unique Navi Guided ® tour concept. The participants can enjoy their own personal electronic information scout that shows the route and special destinations or interesting landmarks. With high reliability the GPS-device leads the individual traveler along the routes of the guided tours, but without a personal tour guide. In addition to a detailed tour book these bits of information enable the participants to ride on the Reuthers dream routes independently and with small luggage. The Navi Guided ® tour concept of REUTHER-ENTERTAINMENTS includes the motorcycle rentals and the costs for the hotel accommodations booked in advance.
The Reuthers Navi Guided ® route concept and the Navi Guided ® technology will be used for the first time this season on five continents. Several tours will take place in New Zealand, in the USA on the Route 66 and in Florida, furthermore in Australia, South Africa and in the European Alps. More tours are planned.

Information:
> reuthers.com
> naviguided.com
> Pressfotos

Press Contact:
REUTHER-ENTERTAINMENTS
Press and Public Relations
Buchenweg 13
96450 Coburg
Germany
Fon +49-9561-7059-370
Fax +49-9561-7059-379
eMail: press @ reuthers.com