Bus Tours
New Zealand
Northlands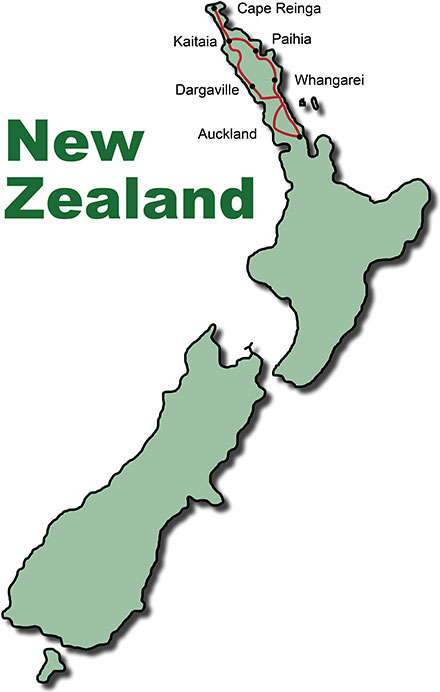 Monday, Day 1
Auckland
Kia Ora to Auckland, the City of Sails. Be our guest at our traditional Welcome Drink and Dinner. Getting to know each other is top of the list and your tour guide will give you further information on your upcoming New Zealand bus tour adventure.

Tuesday, Day 2
Auckland > Whangarai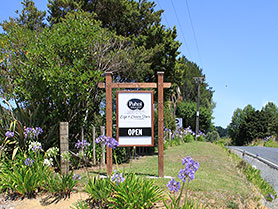 After the briefing for the day we start off for New Zealand's Northlands with several photo stops e.g. at the Puhoi Valley cheese factory and a Honey Farm. We will spend the night in Whangarei.

Wednesday, Day 3
Whangarai > Paihia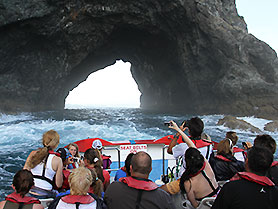 From Whangarei we will head to Paihia at the historic and beloved Bay of Islands for a boats tour experiencing the 'Hole in the Rock'.

Thursday, Day 4
Paihia > Kaitaia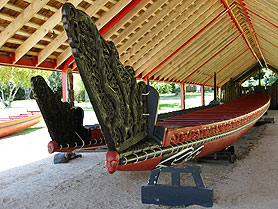 We will start the day with a visit to the Waitangi Treaty Grounds, the birth location of New Zealand. Today's destination is Kaitaia, the perfect starting point for tomorrow.

Friday, Day 5
Kaitaia > Dargaville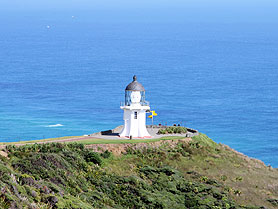 Today we will head for New Zealand's 'most northern spot' and visit the Cape Reinga with the small post office station, a guide to the great wide world and the solitary lighthouse. It is a spiritual spot. Here the spirit of the dead glide into the underworld to their homeland Hawaiki, so the Maori say. After this detour to the far north, we will travel south on the Twin Coast Discovery Highway. There we will cross with the ferry from Kohukohu to Rawene. Our route takes us to the Waipoua Kauri Forest where we will find amongst others the most impressing tree of New Zealand, Tane Mahuta, the 'God of the Forest'. It has a width of 4,5m, a height of 51m and is over 2000 years old. We will spend the night after this exciting day in Dargaville.

Saturday, Day 6
Dargaville > Auckland
On our last day we travel along the Twin Coast Discovery Highway and will arrive sometime in the afternoon in Auckland. In the evening we meet for our traditional Farewell Dinner in which we can recap the adventures of our bus tour through New Zealand.

New Zealand Northlands Bus Tour - what's included:
* Guided Adventure Tour by Reuthers Tour Guide
* Travelling in comfortable Van / Mini Bus
* 6x Accommodation Middleclass Hotels in shared Double Room (1 common bed)
* Standard WiFi at Hotels
* Reuthers Secured Payment Certificate (Sicherungsschein)
* Reuthers Tour Book with Itineraries and Tips
* Reuthers Travel Lecture New Zealand
* Reuthers Welcome Drink
* Welcome- and Farewell-Dinner in Restaurants
* Puhoi Valley Cheese Tasting
* Boats Tour Hole in the Rock
* Transfers Airport-Hotel-Airport
* Entrance Fees
* Reuthers Rewards
Pricing:
Per Person = NZD 1725
Single Room extra charge = NZD 528
Twin Room (2 separate beds) extra charge = NZD 78
All pricing payable in New Zealand Dollar.
3% "Early Bird Discount" (booking more than 12 months prior tour start)
2% "Golden Ager Discount" (age min 60 years prior tour start)
10% "Group Discount" (from 8 participants, all registrations within one week, common Payment of Balance by Bank Transfer)
Please note: Total Discount max. 10% for Deposit by Credit Card and Payment of Balance by Bank Transfer. No Discount for Deposit and Payment of Balance by Credit Card or by PayPal.
Dates:
30.Jan.-4.Feb.2017
6.Mar.-11.Mar.2017
10.Apr.-15.Apr.2017
13.Nov.-18.Nov.2017
29.Jan.-3.Feb.2018
5.Mar.-10.Mar.2018
9.Apr.-14.Apr.2018
12.Nov.-17.Nov.2018
Of course we also realise individual dates for VIPs, private and group tours.