Bus Tours
USA / America
National Parks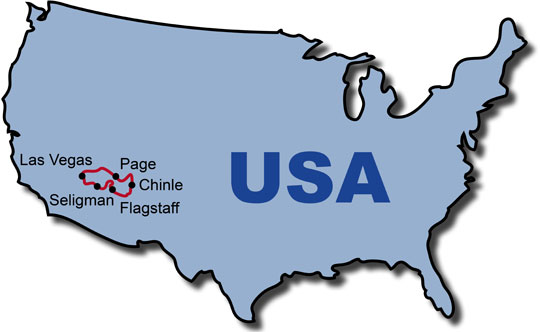 Saturday, Day 1
Las Vegas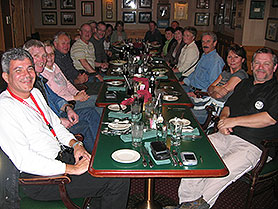 Welcome to Las Vegas. After a transfer to your hotel, meet your fellow travellers at a Welcome Drink and Dinner in the evening.

Sunday, Day 2
Las Vegas > Page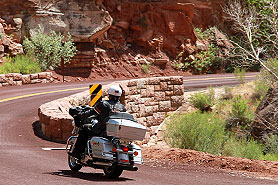 We start our bus tour to the Zion National Park and Bryce Canyon. Our overnight stay is in Page close to the Arizona - Utah border.

Monday, Day 3
Page > Chinle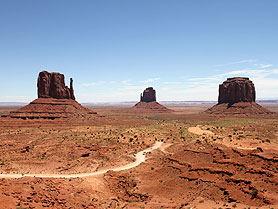 Another two BIG National Parks highlights: The Monument Valley and the Canyon de Chelly with its Spider Rock - both truly unforgettable experiences on this trip. We spend the night in the Navajo Reservation, in Chinle.

Tuesday, Day 4
Chinle > Flagstaff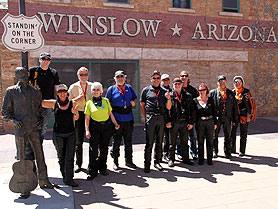 From Chinle, our first leg of the day's journey takes us through the spectacular Petrified Forest National Park and the Painted Desert. Moving on west, we stop for lunch in Holbrook at Joe's and Aggie's and depart to Winslow for the song "Standing on the corner in Winslow Arizona". We close the day in Flagstaff with a visit to The Museum Club (nicknamed 'The Zoo'), the most popular dance club between Oklahoma City and Los Angeles.

Wednesday, Day 5
Flagstaff > Seligman
First thing in the morning we arrive at the amazing Grand Canyon. Those who wish may take a helicopter flight over the canyon. We continue our trip through Williams toward the Californian border. Upon our arrival in Seligman we pay a visit to the founder of the Historic Route 66 Association, Angel Delgadillo, which is located in the Route 66 Visitor Center. One of you might end up in his barber chair for a close-up shave. We spend the night in a typical Route 66 motel, experiencing the basics!

Thursday, Day 6
Seligman > Las Vegas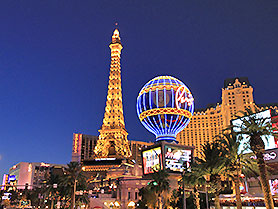 After breakfast at Westside Lilo's Cafe, an original Route 66 restaurant, we travel via Kingman back to our hotel in Las Vegas. In the evening we gather for our Farewell Dinner and to reminisce our common bus tour adventure.

National Parks Bus Tour - what's included:
* Guided Adventure Tour by Reuthers Tour Guide
* Travelling in comfortable Van / Mini Bus
* 6x Accommodation Middleclass Hotels in shared Double Room (1 common bed)
* Reuthers Secured Payment Certificate (Sicherungsschein)
* Reuthers Tour Book with Itineraries and Tips
* Reuthers Travel Lecture USA / National Parks
* Reuthers Welcome Drink
* Welcome- and Farewell-Dinner in Restaurants
* Transfers Airport-Hotel-Airport
* Entrance Fees
* Reuthers Rewards
Pricing:
Per Person = USD 1425
Single Room extra charge = USD 635
Twin Room (2 separate beds) extra charge = USD 85
All pricing payable in US Dollar.
3% "Early Bird Discount" (booking more than 12 months prior tour start)
2% "Golden Ager Discount" (age min 60 years prior tour start)
10% "Group Discount" (from 8 participants, all registrations within one week, common Payment of Balance by Bank Transfer)
Please note: Total Discount max. 10% for Deposit by Credit Card and Payment of Balance by Bank Transfer. No Discount for Deposit and Payment of Balance by Credit Card or by PayPal.
Dates:
20.May.-25.May.2017
27.May.-1.Jun.2017
3.Jun.-8.Jun.2017
10.Jun.-15.Jun.2017
17.Jun.-22.Jun.2017
24.Jun.-29.Jun.2017
8.Jul.-13.Jul.2017
15.Jul.-20.Jul.2017
22.Jul.-27.Jul.2017
29.Jul.-3.Aug.2017
5.Aug.-10.Aug.2017
12.Aug.-17.Aug.2017
19.Aug.-24.Aug.2017
26.Aug.-31.Aug.2017
2.Sep.-7.Sep.2017
9.Sep.-14.Sep.2017
16.Sep.-21.Sep.2017
19.May.-24.May.2018
26.May.-31.May.2018
2.Jun.-7.Jun.2018
9.Jun.-14.Jun.2018
16.Jun.-21.Jun.2018
23.Jun.-28.Jun.2018
7.Jul.-12.Jul.2018
14.Jul.-19.Jul.2018
21.Jul.-26.Jul.2018
28.Jul.-2.Aug.2018
4.Aug.-9.Aug.2018
11.Aug.-16.Aug.2018
18.Aug.-23.Aug.2018
25.Aug.-30.Aug.2018
1.Sep.-6.Sep.2018
8.Sep.-13.Sep.2018
15.Sep.-20.Sep.2018
Of course we also realise individual dates for VIPs, private and group tours.